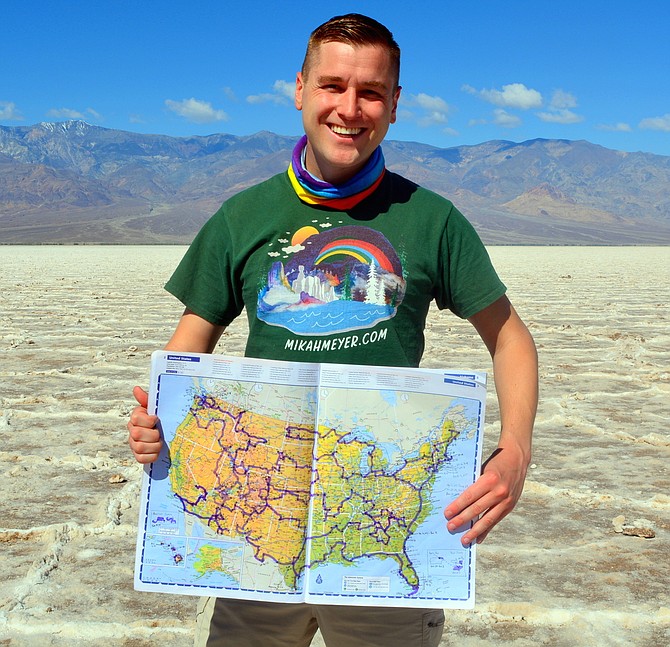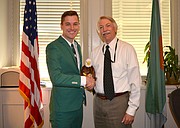 Former Bethesda resident Mikah Meyer decided to visit all 418 National Park Service sites just over three years ago. It was an homage to his father, who died of cancer at the age of 59.
"I wanted to do something big while I was 30," he said. "We never know if we will die young. I didn't want to wait until I was 65."
Meyer, 32, said he has done one road trip every year since he was 19, often with his father who loved road trips, so visiting parks and national historic sites was a perfect fit for his plan to honor his father and have an adventure.
When he completes his travels in April, he will be the first person to visit all the National Park sites in one continuous trip, according to a press release from Montgomery Parks.
First, Meyer outfitted a van into his new home, equipped with storage, a bed, and a kitchen with a solar-powered refrigerator.
"I put solar panels on top of the van," he said.
He also tried to get sponsors to help fund his travels, but it was more difficult than he imagined it would be, he said.
When he started, on April 29, 2016 at the Washington Monument, he said he only had about one fifth of the money he estimated he would need to complete his journey. He said he is not sure how the money worked out, but it did.
Sometimes he would meet friends who would treat him to dinner, sometimes he would exchange a tour of a site or a park for mention on social media, both helped his budget greatly.
"I worked to save money," he said.
Along the way, Meyer said he began taking photos of himself with the Rainbow Flag at the sites he visited. It became a mission to bring attention to the fact that LBGT people lagged in attendance at the parks, he said.
"I didn't start my journey doing this," he said. "But became aware that LBGT people don't feel safe and welcome [in the parks]. The culture was very straight white man."
Asked which parks and sites were his favorite, he said it was the hidden gems, not necessarily the ones everyone has heard of.
He mentioned Bryce Canyon National Park, Utah; Dinosaur National Monument, in Utah and Colorado; and Pictured Rocks National Lakeshore, on Lake Superior in Michigan.
But, he said, everywhere he goes people don't know the parks in their own states.
Though he lived in the area for five years and worked as a residential-program director at Georgetown Prep and a professional chorister at Washington National Cathedral before he started his journey, he was not aware of Clara Barton National Historic Site in Glen Echo.
He visited there Saturday — stop number 390 of his journey — with Maryland Del. Marc Korman, his representative during his time living in Bethesda.
Barton, who founded the American Red Cross, lived in the home for the last 15 years of her life and ran the organization from the home.
"It was pretty fascinating," Meyer said. "Right here, this amazing cultural institution and I didn't know.'
He did know about the Chesapeake & Ohio Canal National Historical Park, he said, and often went hiking there when he lived in Bethesda. He hiked the Billy Goat Trail with Korman in May 2016, when starting his quest.
Meyer said he has 28 sites left to visit, 27 within a two-hour drive of this area. He plans to reach his goal on April 29, three years to the day from when he started.
"At 11 a.m. I will leave the Washington monument, where I started, and walk to the Lincoln Memorial, my last site," he said.
The public is invited to join him that day.