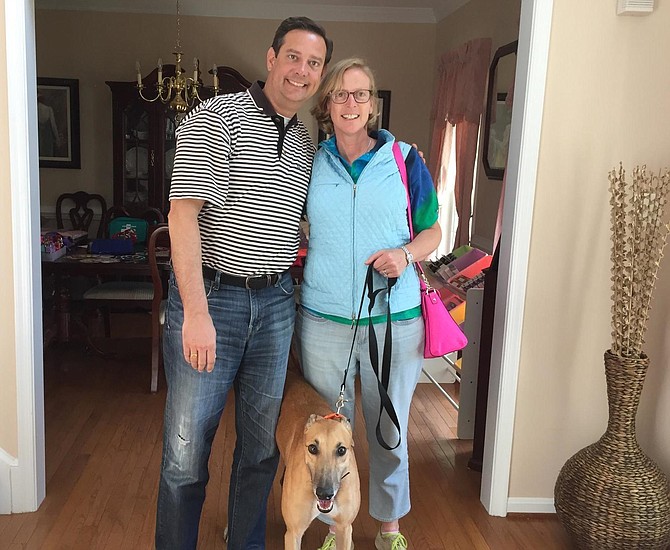 What would you say to having a greyhound as a pet? It needs too much space. I could never give it enough exercise. That's not the dog for me. That is what I thought too. Please reconsider. This past November, Florida voters voted to close all of the state's greyhound racing tracks by the year 2020. There are 11 tracks in Florida, each with hundreds of dogs, many of whom will need homes. So, if you are thinking of adding a dog to your family in the next year, please consider a greyhound.
Many of the commonly held assumptions about the breed are just not true, in fact, quite the opposite. The greyhounds have a nickname of the "40 MPH couch potato." While they can go 40 MPH on the track, once they retire they are very content to lounge around the house. My greyhound gets a short walk in the morning, a 30-minute mid-day walk, and a short walk in the evening.
People think greyhounds need a lot of space and fenced in yards. Would you believe they are on the American Kennel Club's list of best apartment dogs? We live in a townhouse and our greyhound does just fine. They do need to be kept on a lead when they are outside. They are sighthounds and can bolt after squirrels or birds.
There are two other aspects of the breed I'd like to highlight. First, they are incredibly sweet and docile. People think otherwise because they are often pictured in their muzzles at the track. They wear these because they have very fragile skin and the muzzles protect them from injuries. Second, in terms of grooming they are very low maintenance. A bath a couple times a year and some brushing does the trick. They do have fast growing nails that need regular trimming, and as mouth breathers, they require regular dental care. Because they are bred and raised at the tracks they are used to being handled by humans so vet visits are not an issue.
It is surprisingly easy to meet and adopt a greyhound. The local adoptions groups – listed below – frequently have "meet and greets" where you can ask questions and see some greyhounds. Once you adopt your greyhound, the groups are very supportive. My early owner questions were answered within 24 hours, sometimes by multiple volunteers.
So please, if you might be getting a dog soon – be sure to meet a greyhound and research the breed a bit. They make wonderful pets and there are many who will need homes in the not too distant future.
Local Greyhound Adoption Groups:
Blue Ridge Greyhound Adoption – www.brga.org
Virginia greyhound Adoption – www.virginiagreyhounds.org
James River Greyhounds – www.jamesrivergreyhounds.org
Greyhound Pets of America – Northern Virginia www.gpa-nova.org