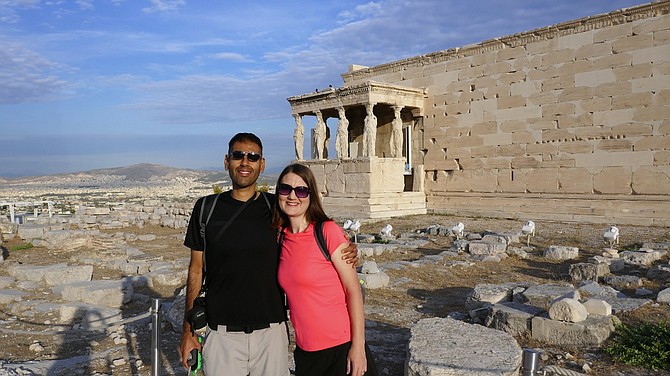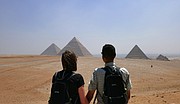 Shannon and Sergio Morales are a California couple that got rid of everything, including their office jobs, and now live out of their backpacks, house-sitting their way around the world in pursuit of the happiness that this kind of freedom brings. They are now housesitting in Alexandria, working computer contracting jobs on their laptops and taking care of the homeowner's two cats until the end of February, when they'll be off to their next stop in this whirlwind lifestyle.
"We couldn't see ourselves settling down," said Shannon Morales.
They've taken their lifestyle discussion to the web, and have a website, "Screw the Average, be an outlier," full of pictures, a blog, and an explanation.
"We've been called frugal, minimalists, environmentalists, and adventurists. We like to think of ourselves as different, as outliers," their explanation reads on their website "Screwtheaverage.com." An "outlier," is defined as "a person whose residence and place of business are at a distance." The name of their website might seem to be snubbing their noses at a conventional lifestyle, but they insist that's not the case. "Why be average when we can push it a little further?" Shannon Morales asked.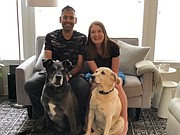 The website photo album shows them in various places in this country as well as the United Kingdom, Ireland, Turkey, Belgium, Italy, Morocco and more. They've house sat in downtown Vienna, Austria, and Athens, Greece "three or four blocks from the palace," said Sergio. Shannon often finds herself at Starbucks with her laptop, working for various computer companies she's gotten contracts to support. "I've been to Starbucks all over the world," she said. Kingstowne Starbucks is within walking distance to their current residence, although it is over a mile. Walking is part of the plan as well.
IN EARLY 2016, they had this lifestyle on their radar screen and worked towards the day when they gave up their apartment, and sold their car in fall of 2016 and left the United States in November. At that point, their plan was to housesit in Europe, but that extended into Asia and Africa too before they came back in 2017 and landed in Boise, Idaho before getting another house-sitting gig in Portland. "It's crazy doing taxes," said Shannon, referring to all the out-of-state type forms they use.
The travel life with a laptop computer and no permanent roots is the topic of "Vegabonding Life," a travel blog that George Rodgers has been part since he adopted this lifestyle. He's been traveling around the world for the past 12 years being a "digital nomad," on a laptop, like the Morales's are doing. "That location-independent lifestyle is very common in the places I travel," he said, naming far-away places he calls "digital nomad hubs," such as Chiang Mai in Thailand, Tulum in Mexico, and Bali. "All offer warm climates, inexpensive living, and networking with other travelers and online entrepreneurs," he said. "I did one of those housesitting gigs myself for two months down in Mexico, simultaneously working with my laptop," Rodgers said.
Although the Morales's goal is to be happy, another roundabout goal goes by the acronym of FIRE – Financially Independent, Retire Early. The Morales's got further involved when they were in Colorado where they met the "NoCo Mustachians," community. The guru of this financial freedom meetup was a character called "Mr. Money Moustache." While the FIRE people are working long hours to get to that point, the Morales's want their happiness to be the main focus.
"We both put in our time," said Shannon, "for us it isn't working the 9-5 job." Travel is a motivator for them, but the FIRE concept is still a long-term goal.
THIS LIFESTYLE is not all about sitting on a sun-drenched beach with a laptop and frozen cocktail, like some of the ads portray. At each house, there is usually pets that need taking care of, and they walk a lot since they have no car. For work, they scour the job boards, and frequently log on to trustedhousesitters.com to find their next stay. At this point in January, they don't have anything set up for the end of February when the current homeowners will return, but they're not concerned.