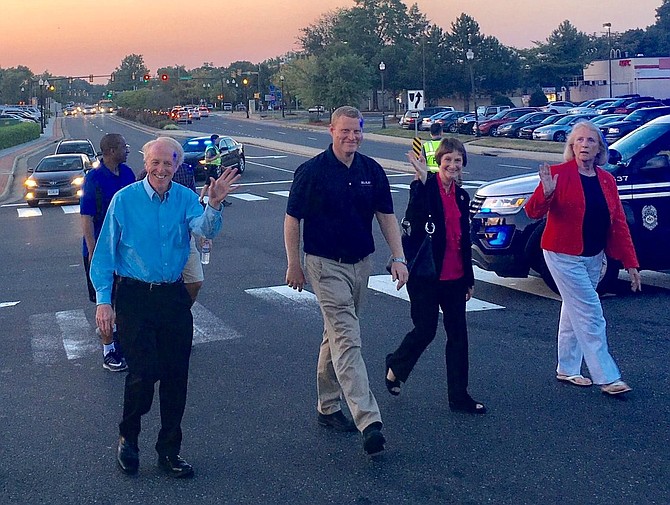 In 2018, Lee District saw major successes. I am very proud of the things we have accomplished this year, and 2019 will be no exception.
Since January, we have successfully completed additional pedestrian and road improvements in the Route One Corridor, increased our momentum with the Embark Comprehensive Plan Amendment, and continued the revitalization of Springfield. We've made headway for renewable energy, secured funding for many transportation projects throughout our district, and worked towards ensuring that every person in Fairfax County has an equitable opportunity to succeed thanks to an increased presence of One Fairfax and my work on the Successful Children and Youth Policy Team (SCYPT).
During my time as Supervisor, I have always made it my mission to revitalize the Route One Corridor. This year, we passed our years-in-the-making Embark Comprehensive Amendment Plan, a plan to revitalize the Route One Corridor by way of incorporating a Bus Rapid Transit (BRT) System, widening Route One, and attracting businesses in the region. We have approved pole-mounted speed display signs, an effective traffic calming mechanism, and additional "Slow Down, You Live Here, We Live Here" signs across our district to combat speeding.
In addition to the headway we've made with the Embark Plan, we continue making strides in revitalizing Springfield as well. Earlier this year, the Board adopted a Plan Amendment to make it easier to fill vacant retail spaces. This was something I championed because, as the future of retail continues to change, we're going to have to be flexible to fill these empty storefronts. This comes as part of our revitalization work and will provide money for new "Welcome to Springfield" gateway signs.
LEE DISTRICT has also seen the grand re-opening of John-Marshall Library as well as several new businesses in our area. We've seen the addition of the Transportation Security Administration (the second largest office building currently under construction in Fairfax County), and the addition of Lidl Grocery Store. Both are expected to open in 2020. With the Embark plan, Route One saw the groundbreaking for South Alex in recent weeks, a new, vibrant, mixed-use development that will feature a mix of transit-oriented shops and residences near Huntington Metro Station.
This year, we saw huge success for environmental stewardship. The Board approved the first-ever countywide Energy Strategy to protect our environment. My motion at the FY 2018 Carryover Package Review on July 31, 2018, began funding the plan, and provided $4.5 million from the Carryover Budget (to go towards implementing the strategy). I am also proud to have added language to the Virginia Association of Counties (VACo) Legislative Program that called for the reduction of greenhouse gas emissions by using renewable energy and removing the barriers to solar energy.
Transportation projects were also a focal point of mine, and Lee District won big this year. Our Lee District projects made up approximately 76 percent of the dollars the entire county received from the Northern Virginia Transportation Authority (NVTA). Out of this came funding for three projects -- two on Richmond Highway and one in Springfield; these projects were awarded a combined $402 million in state funding. The funding was allocated as follows: $250 million to help fund the Richmond Highway BRT project; $127 million to assist with the ongoing Richmond Highway widening and pedestrian improvement project; and $25 million to go towards the extension of Frontier Drive. These projects will provide better means of travel, and increase connectivity, something I'm always striving for.
As I reflect on our successes of 2018, I am even more excited to build upon them in 2019. The New Year presents a tremendous opportunity for us to continue the great momentum we've got going. As Chairman of the Board of Supervisors' Budget Committee, I am already working on balancing the FY20 budget. I am very mindful of our ability to maintain services, and the ability of our residents to afford them. I am also particularly looking forward to advancements in education, revitalization, and transportation, and already am preparing to work with my colleagues as we continue to bring residents world-class services.
We adopted our 2019 Legislative Program in recent weeks, setting our priorities for working with the state government for the upcoming 2019 General Assembly session. Included in the package was a request for legislation to allow for increased funding for transportation projects, including restoring dollars taken from the Northern Virginia Transportation Authority (NVTA) to address our gridlock challenges. We also advocated for more state K-12 education spending for our students. While we are a wealthy jurisdiction, we have approximately 55,000 students on free or reduced lunch (FRM). Only four school divisions in the entire Commonwealth have more total students than just that number of free and reduced-price meals. Most of our state delegation get this, but it's something we're committed to magnifying statewide in 2019.
I'm looking forward to continuing to strengthen the relationship between the Fairfax County Police Department and community through the implementation of reforms addressed in the Ad Hoc Police Reform Report, such as increased transparency and body-worn cameras. I'm also excited to see the continued success of One Fairfax and the SCYPT (Successful Children and Youth Policy Team), ensuring everyone in Fairfax County has an equal, equitable opportunity to live, work, learn, and play in Fairfax County.
AS 2019 BEGINS, I will continue our ongoing strategies to revitalize Springfield and Route One including our continued work on the addition of the TSA and Lidl Grocery store as mentioned before. Our work on Embark is also at the forefront of my goals and ensuring that we continue to see that plan come through to fruition is of utmost importance to me. We have come so far over the last decade, and I cannot wait to see how far we'll go in 2019. Our momentum continues!