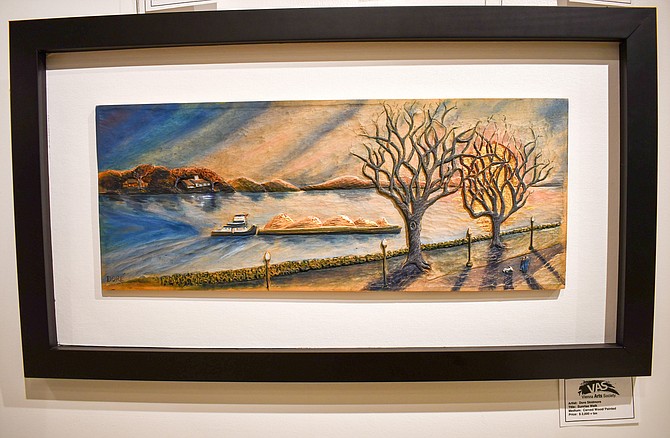 Doré Skidmore has been named the Artist of the Year by the Vienna Arts Society. The Vienna Arts Society has been naming a worthy artist to be their Artist of the Year for almost the past fifteen years.
"I was very surprised and honored to be selected from more than 160 members of Vienna Arts Society," said Skidmore.
Before becoming an artist, Skidmore studied math. She found her calling through art history and gained her Bachelor of Arts from Vassar College. "My interest in geometry translated well to sculpting, and I've been an artist ever since," said Skidmore. Skidmore studied sculpture under Constantine Seferlis, the master carver at the Washington National Cathedral. Skidmore carves scenes out of wood in a style called woodgraphs. One of her beautiful creations is hanging in the new Vienna Arts Society at 243 Church Street NW.
"The Vienna Arts Society has several exhibitions in which I'm currently displaying paintings, mixed media and bas relief carvings. At some point during 2019 I'll be invited to exhibit a collection of my pieces at our new Art Center in the Windover Building," said Skidmore.
In addition to her art, Skidmore has been involved in the Healing Wall project that focuses on working with troops on the mend at the Fort Belvoir Community Hospital.
"I'm also on the teams that will launch Vienna Art Society's 50th anniversary projects, to include our Treasury of Art juried show and sale in the Community Center (April 5 - 7) as well as Take a Seat, Vienna (April - November)," said Skidmore.
"The other day someone reminded me that there is joy in creating something original, and it's that joy that leads to my involvement with the Vienna Arts Society's outreach activities with kids and adults who might not have art in their lives."