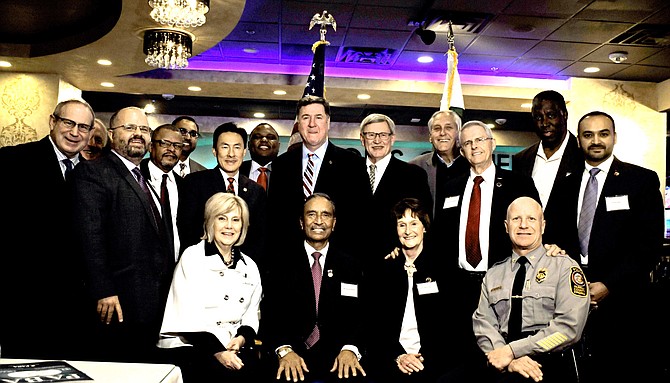 At the recent Pakistan American Business Association (www.pabausa.org) meeting, many Virginia dignitaries, including former and current government leaders, met at the Sapphire Restaurant in Tysons Corner to celebrate awards for those who have contributed to goodwill and business development between Pakistan and the United States. PABA is more than 30 years old, and its founder and chair, M. Siddique Sheikh, a former member of the Rotary Club of Springfield, and well-known Northern Virginia businessman, led the evening's event.
Virginia State Senators Dave Marsden, Richard Black and George Barker, and several Virginia Assembly members, were joined by local government supervisors from Prince William and Fairfax Counties. Chef of Police Ed Rossner was also in attendance, as were former Virginia Governor and US Senator George Allen and his daughter Brooke. Former US House of Representatives member Tom Davis was there. Debbie Jones, President of the Prince William County Chamber of Commerce, joined the function, too. Gary and Ann Baise, a famous American business couple now living in West Virginia, came to the event.
Many well-known Pakistan-American Businessmen were in attendance, as well.