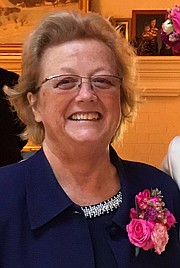 "Her soul was the most beautiful thing I ever knew." —Daughter Marika Tsombikos
Kathleen J. Murphy lived a life of accomplishments, interests, faith and family devotion and service to the community. Surrounded by her loved ones, the resident of Great Falls died on Wednesday, Jan. 2, at the age of 71.
On Saturday, family, friends, colleagues, and the many whose lives were touched and enriched by knowing the community activist, gathered at Christ the King Lutheran Church on Georgetown Pike in Great Falls to pay their respects at a viewing, followed by a Celebration of Life service.
Murphy was born the oldest of six children in New York City. Armed with a BA is Sociology from Marymount Manhattan College, a Masters degree from New York University and immeasurable intelligence and a curiosity about everything and everyone around her, she built a career as a management consultant that spanned three decades and included domestic and international assignments for firms such as McKinsey & Company, Andersen Consulting, Hagler Bailey in Arlington (which brought her to her adopted home of Northern Virginia) and CSC in Falls Church.
Somehow, in between job responsibilities and the work of being wife to Konstantine Tsombikos and mother to sons William and John and daughter Marika, and authoring 14 publications, Murphy began to employ her energy and talents to the betterment of her Great Falls community and the surrounding area.
From 2011 to 2017, Murphy served as the president of the Great Falls Historical Society. With the Great Falls Citizens Association, Murphy chaired the Long-Range Planning and Development Committee from 2006-2011, dedicated to preserving the semi-rural character of Great Falls while working to make the changes needed to keep the community healthy and vibrant.
MURPHY HELPED SHAPE the future of the community with her work on the Great Falls Vision Project and the Great Falls 2020 Vision Plan, as well as her membership on the Dranesville District Task Force.
Dranesville Supervisor John Foust was a friend and often had occasion to work with Murphy. At the viewing, he said that she was "a real force and a champion of the community and the people in it. She will be missed by so many. She will be missed by me."
Her family noted that among Murphy's most loved projects was her involvement with the Great Falls Community Farm Market, serving as its manager from 2012 until her death. With her team, Murphy strove to revive the space and create a village atmosphere where neighbors could come together not only to purchase local products and healthy fare and enjoy a morning of music and other entertainment, but meet and greet each other and strengthen their bonds of community.
At the viewing, it was stories of Murphy in each of these roles that dominated the conversation. After paying their respects, it was laughter and happy reminiscing that outweighed the tears for this first portion of the gathering. Friends shared favorite memories of their times with Kathleen, as they stood before a table laden with pictures from her life, from childhood to recent days.
But the tears did come as the casket was finally escorted into the church proper, with her family as pallbearers and lead by the sounds of a Scottish bagpiper.
MURPHY'S DAUGHTER Marika Tsombikos gave the main remarks, focusing not on Murphy's many accomplishments or even on her service to the community, but simply as "Mom" and the life lessons she taught to all her family, to friends and colleagues, "even strangers were included in the circle of her light."
Murphy will never meet the granddaughter that Marika will be bringing into the world in April. "And she was so excited to get to meet you," said Marika, who vowed to raise her daughter as she was raised, "to find the wonder and goodness in the world and the people around you."
"Her soul was the most beautiful thing I ever knew," said Tsombikos, adding that her mother was known as someone who could "see the talents and strength in others even before they could themselves."
"That was the common thread I heard from everyone I spoke to about her," agreed Rev. Henry Langknecht, Pastor at Christ the King Church who presided over the celebratory services. "Each one eventually said the same thing. Kathleen was that rare person who could find your talent, draw it out, and give you confidence."
Kathleen Murphy will be interred in her native New York, but her impact on her adopted home of Great Falls will long be felt.