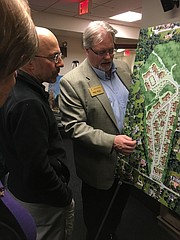 West Montgomery County Citizen Association invited representatives from The Wormald Companies to its January meeting to learn about the company's plan to build a senior living facility on the 4th Presbyterian School property on South Glen Road near Norton Road.
Ken Wormald, a managing partner in his family's company which, he said, was founded in the basement of his parents' home on Gary Road, shared the vision for developing the 30-acre property.
"What we kept hearing from a number of sources was senior living," he said.
The plan is to make [the development] look like single homes, create 18 estate homes interconnected by trails. Within each estate home would be three single family homes, Wormald said.
Each of those homes would be three bedroom, the idea being that there would be room for a live-in caregiver, if necessary, and/or visiting children or grandchildren.
Wormald said research shows that people want to downsize, yet stay close to the community they know, making the new community – Heritage Gardens – appropriate for the needs of many Potomac residents.
The community would be independent living. No services would be offered; senior residents would be responsible for obtaining the help they need as they "age in place."
To that end, Wormald Companies partnered with Sage Life Senior Living, a company offering customized wellness options, "all designed to ensure that you continue to live life on your terms," according to the company's website.
Among things seniors want is to "move into a nice community with a lot of activities and not move again," said Kim Smith of Sage Life. "The big trend in senior living is a la carte services."
"We are proposing an [on site] Sage Life Concierge Navigator," Smith said, "to help coordinate care givers, maximize resources and keep costs down."
More than 60 people were at last Wednesday's meeting and they had many questions for Wormald.
Several of those had to do with the placement of the houses and the fate of the five or six buildings left by the school.
The newest of the school buildings would be retained and used as a community center, Wormald said.

Neighbors were concerned about the conservation area and run off from building and the new roads that the development would require.
The Kilgore Branch runs through the property and continues down to meet the Watts Branch where the Glen roads meet.
"I'm concerned about the forest loss," WMCCA president Ginny Barnes said.
When asked, Wormald said they plan to provide 13 or 14 acres as forest conservation.
Others were concerned about traffic on Glen Road, a two-lane designated Rustic Road.
Wormald said they are planning to close the current entrance to the property opposite Norton Road, farther west where there is better sight distance for pulling out into Glen Road.
Nearby neighbors had questions about how regrading for the development would affect them.
The 30 acres are currently zoned R2, a county designation allowing one residential building on two acres.
"You are basically putting in a very high-end townhouse development in R2," Susanne Lee, WMCCA member, said.
"This is an information gathering meeting, so we know what's going on," Barnes said. "We heard about [the proposed development] from the neighbors so I invited Ken. I think it appropriate for [him] to share the plan with the group."
In an email after the meeting, Barnes said, "WMCCA has not taken a position on the proposal for "Heritage Gardens" senior living housing. The BOD [Board of Directors] will vote at our next BOD meeting in late January. Meanwhile we plan to meet with Planning Board staff and continue our fact finding on the proposal and the property itself."