In the flower world, Valentine's Day is like Black Friday is for retail. Romance is in the air, and the red rose is the flower of choice. Karen Lynn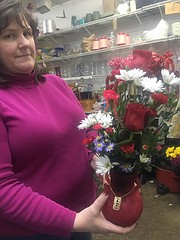 Fountain at Flowers 'n' Ferns in Burke knows the routine at her shop on Old Keene Mill Road.
"We're in here early, hopefully everything is delivered by 4 p.m.," Fountain said.
In order to get the 5,000 roses she sells ready for the big day, Fountain starts the process in early January, filling order boxes and getting all the support equipment in place to make the arrangements. This year, she's featuring the Valentine's Day Grand Slam, an arrangement with a dozen red roses, a balloon, chocolates and a teddy bear.
It all starts with the rose though, and she orders from a middle man that gets them from four growers in Ecuador and Columbia. Fountain is a local and likes to keep as much of her business in the United States but the climate in February is what it is. Sourcing things from a tropical environment is sometimes necessary. "Red is still the favorite," she said. The best red rose for Fountain is the "Freedom Rose," and it has the most petals and shelf life, but other reds she uses are the "Black Magic" rose and the "Cherry Lane."
One customer gets the "Yellow Bikini" roses every year, so Fountain makes sure she has some of those on hand in February too. Orchids and tulips are also favorites on Valentine's.
According to the Society of American Florists based in Old Town, Alexandria, a 2018 study by researchers at Harvard, Rutgers and Texas A&M called "Impact of Flowers on Perceived Stress Among Women," that found by adding flowers to indoor environments results in a statistically significant and meaningful reduction in stress.
Around Flowers 'n' Ferns, there is the stress factor for everyone in the family. "We also have a lot of men that come in or call and say, my wife or girlfriend had an awful day, so I want to get them something to cheer them up," said Fountain.
It all started in 1975 at Flowers 'n' Ferns when Fountain's family bought Springfield Florist on Backlick Road. Then they opened Flowers 'n' Ferns in Burke and combined the two when highway construction changed the Backlick Road store's configuration.
Last Memorial Day weekend, Fountain's father passed away. He was a big part of the business, so they will need to bring an additional employee
for this year's Valentine's Day.
There aren't many flower shops in the area but the grocery stores do have flower sections that offer roses too. Fountain looks to keep the long stems in stock though, and the better roses with the long stems are in the first cut off a plant. "Ours are the longer stem, we get the first or the second cut off the rose bush," she said.
Ordering ahead of time is the best, but that doesn't happen all the time, and more times than not people come in on the way home on Valentine's Day and pick up a bouquet, so they do run out. "We've had that happen over the years," she said.
Every year it's more than husbands buying for wives: sisters buying for each other, high school sweethearts, couples, and pets. "I think Valentine's Day is all ages," Fountain said.