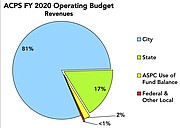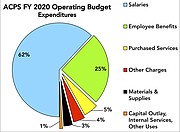 "What we have to remember when we are asking for certain services…our kids are bringing some additional obstacles to the table." —Superintendent Dr. Gregory C. Hutchings, Jr.
The public schools' superintendent last week proposed a $285 million FY 2020 operating budget, 4 percent over last year, driven especially by growing student enrollment and employee pay and benefits.
Roughly $232 million would come from City Council, which exercises the power of the purse locally; $48 million from the state; and $6 million from drawing down on the school division's fund balance.
Superintendent Dr. Gregory C. Hutchings, Jr. also proposed a $15 million grants-and-special-projects budget, which mostly uses state and federal funding; and an $11 million school nutrition budget, which uses self-generated revenues. In total, the schools' FY 2020 the tripartite "combined funds budget," of which the operating budget comprises 92 percent, would weigh in at $311 million.
Overall enrollment increased by 40 percent between FY 2009 and FY 2019, according to Hutchings' presentation to the School Board last Thursday, Jan. 10. Pre-kindergarten and elementary school enrollment increased by 42 percent; middle school by 52 percent; high school by 33 percent. The schools project division-wide enrollment to increase by another 17 percent, for a total of 18,700 students, by FY 2028.
"What we have to remember when we are asking for certain services in our schools — such as nurses …, counselors …, additional support staff within our schools — [is that] … our kids are bringing some additional obstacles to the table," said Hutchings.
Regionally, Alexandria has absorbed a disproportionate share of English learners and students eligible for subsidized meals (a proxy measure of poverty), who require additional services and costs. Enrollment for these subgroups in Alexandria grew by 21 percent and 8 percent between FY 2015 and FY 2019.
English learners comprise 32 percent of Alexandria's student body in FY 2019, according to the FY 2019 Washington Area Boards of Education Guide, an annual publication. That's the highest proportion among 10 regional jurisdictions, and nearly double the 19 percent share in both Arlington and Fairfax.
Students eligible for subsidized meals comprise 59 percent on average in Alexandria, although that proportion varies drastically from school to school. It ranged in FY 2018 from less than 20 percent at Lyles Crouch to nearly 90 percent at William Ramsay, the city's easternmost and westernmost elementary schools, respectively. Alexandria's overall proportion of free and reduced price meal students is the third highest in the region, and again double the 29 percent share in Arlington and Fairfax.
The state provides disproportionately low funding for these subgroups. According to the budget proposal document: "Virginia views Alexandria as a wealthy community in comparison to other jurisdictions in the state. When the State determines the amount of funding it will provide to ACPS [Alexandria City Public Schools], it takes into consideration this wealth factor … and adjusts allocations down, based on the calculation of financial resources available in the City. As a result, the State provides ACPS with less direct aid support on a per pupil basis than other Virginia school divisions."
About 87 percent of the proposed operating budget would go toward employee salaries and benefits. That includes a proposed full step (pay grade) salary increase and a one percent market rate adjustment. But Hutchings would adjust health care benefits by increasing deductibles, copays for specialist visits, and contribution percentages for certain employees. These recommendations would make Alexandria's health benefits align more closely with Arlington's.
"Right now, we have a zero deductible for our employees, which is really not heard of in, not just school systems, but in businesses and organizations across the country. That's why they [insurers] label us as 'platinum plus,'" said Hutchings.
Alexandria's teachers currently receive the third highest total compensation package of 10 regional jurisdictions, behind Montgomery and Arlington, according to a staff presentation to the School Board in November.
The proposed budget would add a net 4.5 full time equivalent positions, bringing the total payroll to 2,590. Custodial positions, most of which would be outsourced, would shrink the most. Major staff additions would include a variety of both "core" and "enrichment and elective" instructors. New positions would also include a substance abuse counselor to help address "a rise with some [student] substance abuse," indicated in student surveys, said Hutchings; special education professionals; and facilities-related professionals, including an in-house HVAC project manager. New operations and maintenance staff would help the schools shift from a "reactive mode" to a "proactive mode," such as by ensuring "preventative maintenance plans" and "quality assurances," said Hutchings.
The proposed budget would impose a new a seven-year cycle of textbook replacement. This would include over $6 million for phased replacement through FY 2026 of current textbooks, and thereafter $1 million in annual incremental savings for the next cycle.
This year's proposed use of $6 million in fund balances to close budget gaps would be the third and largest such drawdown in five years, since FY 2016.
According to the budget proposal document, fund balance serves "to support the following year's budget (currently limited to no more than two percent of proposed operating expenditures). The remainder is held as a cushion against extraordinary circumstances that might cause significant, one-time increases in expenditures or decreases in revenue."
The School Board will discuss the proposed operating and other budgets at work session scheduled for the next three Thursdays, Jan. 17, 24 and 31. The public may weigh in at the public hearing on Thursday, Feb. 7, or by contacting the School Board using the online form at www.acps.k12.va.us/domain/853. The School Board will adopted the combined funds budget on Thursday, Feb. 21. Find budget materials at www.acps.k12.va.us/budget.