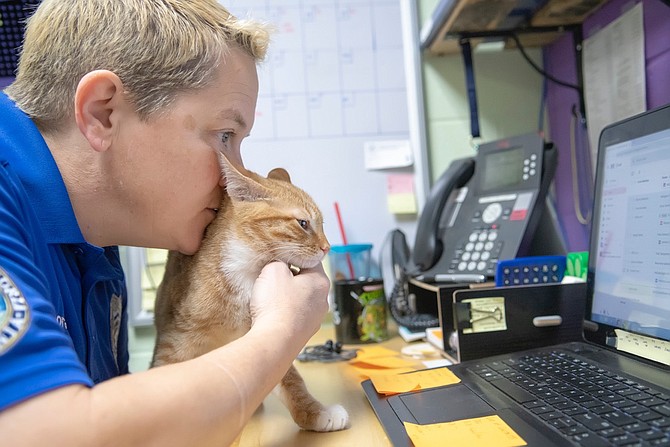 Just before 6 a.m. on a Wednesday last spring, the Animal Services department of the Animal Welfare League of Alexandria (AWLA) received a call from the Alexandria Police Department: A five-month-old Labrador puppy had been taken to VCA Alexandria Animal Hospital with a swollen face and head: It appeared to be animal abuse, a violation of Virginia law.
When AWLA Animal Services Chief Tammy Doran arrived at the animal hospital, she learned that the puppy, known as Allie, had been brought in by its owner, who had returned from work to find the injured dog. Despite severe swelling, an exam and X-rays at the animal hospital showed no broken bones. The doctors decided to hold the dog overnight for treatment.
Interviewing the owner's boyfriend, police learned that he had beaten and tossed the puppy around for several hours. He attributed his actions to stress at work. A landmark study published in "Society & Animals" in 1997 showed that 71 percent of women abused by their partners reported that the same partner had threatened or actually harmed their pet. Fortunately, in this case, the owner's girlfriend confirmed that he had not been violent with her.
Although the man had admitted beating the puppy, a full investigation by the Alexandria Police Department's Domestic Violence Unit, the Commonwealth's Attorney's office and the AWLA was required in order to bring charges against him. AWLA's Chief Doran helped gather evidence and provide expertise in the case, which ultimately went to a grand jury in Alexandria.
Crimes against animals are now treated more seriously in this jurisdiction than they were in past decades, when prosecution and conviction for such acts were rare. "I consider any allegation of animal cruelty to be serious," said Bryan Porter, Commonwealth's Attorney for Alexandria. "Using violence against any animal is disturbing and clearly wrong, and it is incumbent on my office to punish such criminality and to deter future acts of cruelty."
The AWLA Animal Services unit is sometimes a first responder, receiving an average of 150 calls from the public about animal neglect and abuse each year, but it is just one of many organizations involved in the investigation and potential prosecution of such cases. When signs of animal abuse are found, all animals in the home might be seized, and the AWLA officers are tasked with gathering evidence and sometimes assisting with filing of criminal charges. Local veterinary providers and the AWLA's veterinarian also may assist with the case, providing information about the abused animal's medical condition and sometimes serving as expert witnesses.
Statistics show that in homes where animals are being abused, it is highly likely that humans are being abused as well. According to a comprehensive study published in 1983 in the "International Journal for the Study of Animal Problems," animal abuse occurred in 88 percent of households under state supervision for child abuse. For this reason, AWLA's Animal Services also works with Child Protective Services if children live in the home, as well as Adult Protective Services if there is a vulnerable adult in the home. Animal Services is also a member of the City of Alexandria's Domestic Violence Intervention Program, a community response collaborative that works to assist all victims of domestic violence, including animals.
Porter said the AWLA plays a vital role in the animal cruelty cases he prosecutes. "My office's ability to conduct thorough and professional investigations and prosecutions would be made exponentially more difficult if it were not for the dedicated people comprising AWLA," he said. Porter specifically commended the work of Assistant Commonwealth's Attorney Maana Parcham on Allie's case, calling the process a "wonderful example of collaboration between AWLA, Alexandria Police and my office."
Virginia and the rest of the nation are moving toward expanded protection for animals and pet owners. Bipartisan legislation passed signed by the President last month seeks to help victims of domestic violence flee their abusers without compromising the safety of beloved pets. Originally known as the Pet and Women Safety Act, the proposal was included as part of the 2018 Farm Bill and is now known as the Protecting Animals with Shelter Act. This legislation expands existing federal domestic violence protections to include threats or acts of violence against a victim's pet and provides grant funding to programs that offer shelter and housing assistance for domestic violence victims with pets.
The defendant in Allie's case ultimately pleaded guilty to cruelty to animals and was sentenced to 90 days in jail, with 80 days suspended. He also was ordered not to own animals for one year and to take a course in anger management. After recovering from her injuries, Allie was returned to the breeder and ultimately found a new home.
Chief Doran was heartened that the collaboration led to successful prosecution, especially because jail time for such cases is highly unusual. "Animal abuse is everywhere," said Doran. "We domesticated animals, and now we need to take responsibility to protect them from abuse and harm."
The Animal Welfare League of Alexandria is a local 501(c)(3) organization. Operating the Vola Lawson Animal Shelter, which is Alexandria's only open-access animal shelter, the AWLA is committed to addressing animal homelessness, promoting animal welfare and serving as an educational resource for the community. See AlexandriaAnimals.org.