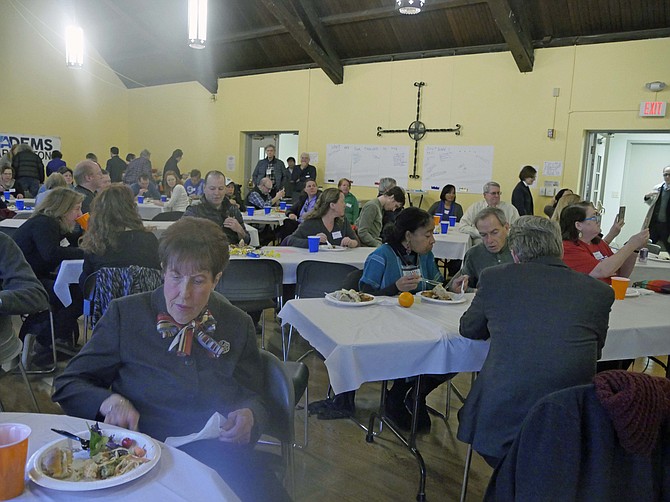 Almost 100 Federal furloughed employees from the area and their families gathered at the second Missing Payment Protest lunch on Friday, Jan. 25 at St. George's Episcopal Church to show solidarity for furloughed Federal workers. Two hours later, President Trump was on television announcing the temporary reopening of the government until Feb. 15 under a continuing resolution.
A buffet of sandwiches, spinach salad, chicken and pizza donated by local businesses sat alongside lasagnas and donated casseroles from attendees.
Federal workers sat around the tables exchanging stories. Sam Shirazi said, "The biggest impact on me is my daughter, whose daycare is in a Federal building that is shut down. So I've been taking care of her. It's tough; so many places are closed. A lot of people don't really appreciate it's not all about getting the paycheck. There are other things that happen. And you have to pay daycare costs even though it is closed. I'm worried about when we reopen and get back into the routine. My daughter is only two; she doesn't understand."
Bob McCabe, who works for the National Science Foundation, said, "I miss my job. It's not financial hardship, because I have retirement from my first job in the auto industry for 36 years. But I feel my job is essential. We supply research funds at academic institutions. It's research that is important for the future of the country." He says the unpredictability can interrupt research in the middle and force hiring decisions out of the regular cycle and then they can't find people. "I love my job and I can't wait to get back."
Julie Ciccarone is the U.S. Agency for International Development desk officer for Mexico and Honduras. "My financials are OK but I actually work on the program that addresses the very drivers that force the people that Trump complains about to come here, the program that could address the root causes — violence, corruption, poverty." She says Trump has threatened several times to take away the money for these programs. Ciccarone said, "Morale is terrible. People keep asking me 'should we prepare to shut down.' I keep saying do what you do."
U.S. Sen. Tim Kaine's Chief of Staff Mike Henry said, "This has been weighing on the senator's mind since the moment it happened." He said, "I've been asked to talk to the group today about the state of affairs. The thing I saw last night was [Senate Minority Leader Chuck] Schumer and [Senate Majority Leader Mitch] McConnell starting to talk. I don't want to be too encouraged or predict anything, but when two guys in the Senate are talking again, I feel better. Now there is political pressure."
Later, Henry told the group that Kaine had voted to open the government Thursday and had twice objected to adjourning the Senate until the government reopened. "He got a bill passed with Cardin that makes sure everyone gets back pay. It passed the House and Senate and was signed by the President. He's working on a bill to make contractors whole."
Henry told the audience: "This is really meaningful for me. Nobody is nonessential. The amount of calls we get — serious, mad, frustrated. We're doing everything we possibly can." Henry told the group that he would stay as long as the audience wanted to answer their questions but he hoped to get back to the Senate to see what was developing. By the time he returned a couple hours later, the impasse had been temporarily resolved, the mechanics were in place to reopen the government and the negotiations were ready to move forward.
The Missing Payment Protest event was organized by several Democratic organizations "to show the workers we have their back," according to Rebecca Theim, public relations spokesperson for the Democratic party.