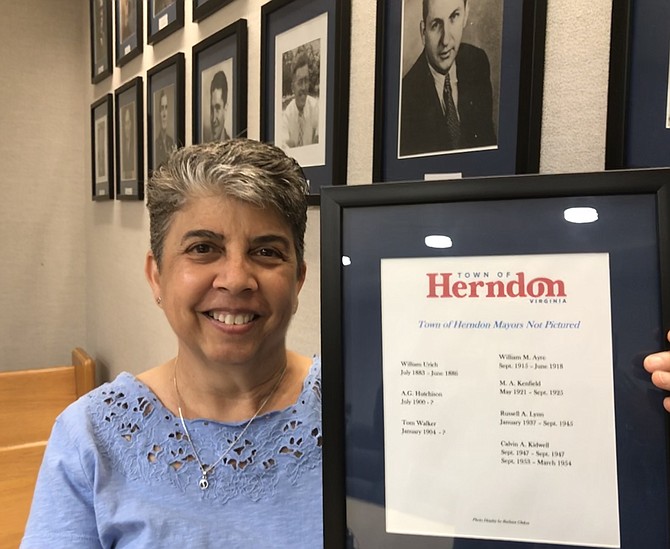 For Barbara A. Glakas, a retired teacher and member of the nonprofit organization Herndon Historical Society, the history of the Town of Herndon and its documentation is a passion. An avid historian and recently published author of the book, "Hidden History of Herndon," Glakas has spent many years researching, writing stories and making videos about the history of the little town.
But now she's stumped.
About five years ago, Glakas took on a request to create a wall display of all mayors of the Town of Herndon, going back to the town's incorporation in 1879 to today. She performed the task as a volunteer service. Glakas said that during her research she verified, as best she could, the names and terms of all mayors who served the Town of Herndon. Glakas recalled she delved deep into archived town council meeting minutes; however, it appeared to her some meeting minutes were missing. Glakas said she turned to other reliable sources of local history to continue her research, such as census documents, cemetery registers, old newspapers and such. In the process, she verified a total of 34 mayors, most of their term lengths, and located images for 27 of her documented mayors.
Glakas matted and framed the photographs she found of the men and women who held the top post in the town's 140-year history and installed them in the Hoover Conference Room adjacent to the Herndon Town Chambers. Currently, pictures of seven mayors remain missing. "It would be nice to finish it out," Glakas said.
According to Glakas, The Seven Missing Mayors of Herndon are:
William Urich: July 1883-June 1886
A. G. Hutchison: July 1900- unknown
Tom Walker: January 1904- unknown
William M. Ayre: September 1915- June 1918
M. A. Kenfield: May 1921- September 1925
Russell A. Lynn: January 1937- September 1945
Calvin A. Kidwell: (Two terms) September 1947-September 1947 and September 1953- March 1954
Glakas said she is turning to the public for help as she hopes someone may have a lead for her or a photo of one of these men, perhaps in an old family or organization album or maybe in a group portrait. "If anybody has any leads or knows where photos might be found, please contact me, Barbara Glakas at herndonhistoricalsociety@gmail.com," she said.
Although the mayors' wall project was not affiliated with the Herndon Historical Society, the Society's President, Nancy Saunders knows Glakas well, as Glakas serves as the Society's historian. Upon learning of the renewed hunt for the seven missing mayors, Saunders said, "The Herndon Historical Society welcomes Barbara Glakas' efforts to complete the Mayors' Wall in the Hoover Conference Room."
Related to Glakas' research of the Town of Herndon and its history, Jo Ormesher, CEO and President of Arts Herndon said, "As part of Arts Herndon's Third Thursday series, on July 18, at 7:00 p.m., Glakas presents a book talk, sale and signing for her new book, "Hidden History of Herndon" at ArtSpace Herndon, 750 Center Street. While the event is free and open to the public, if anyone wants to purchase a book, there is a cost for it. For more information, visit www.artsherndon.org.