When driving on I-95 anytime of the day, it could seem like rush hour. That's when ideas come to many drivers on what to do to fix this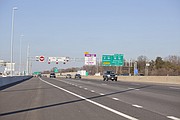 thoroughfare, and now the officials want to hear those ideas as part of a corridor improvement study that is being conducted with the Commonwealth Transportation Board, the Virginia Department of Transportation, the Office of Intermodal Planning and Investment and the Department of Rail and Public Transportation. Whether it's a new turn lane, exit ramp or even a launch pad for the helicopter backpacks that someone is developing in their garage to get out of gridlock, officials want to hear about it.
"The study team is currently in the problem identification stage, which includes gathering data and starting public engagement to learn drivers' and residents' individual experiences," said Lindsay LeGrand, the Assistant Director of Communications at the VDOT Central Office in Richmond. "The team will gauge whether public experiences validate the initial data collected on crash frequency and severity, delays and incident-related delays," she said. The team is also interested in any potential solutions members of the public may want considered, so this is the driver's chance to be heard.
The Springfield District has had its share of I-95 projects in the last 20 years, starting with the rebuild of the Springfield Interchange where I-395,
I-95 Corridor Improvement Study Meetings
Thursday, July 18, 2019
6–8 p.m.
South County Middle School
8700 Laurel Crest Drive
Lorton
Tuesday, July 23, 2019
James Monroe High School
2300 Washington Avenue
Fredericksburg, VA 22401
6–8 p.m.
Thursday, July 25, 2019
Virginia State University Multipurpose Center
20809 2nd Avenue
Petersburg, VA 23803
5–7 p.m.
I-495 and I-95 meet. The ribbon was cut for that project in the summer of 2007. The fourth lane project started shortly after that, adding another lane between "the mixing bowl," a name that interchange adopted, and the Occoquan River. Then came the 95 Express lanes, a tolled lane plan where another lane was added to the HOV lanes and vehicles with one or two occupants paid a toll to use the lanes but carpools with three or more occupants could ride for free. Many ramps and access lanes were added as part of these projects but at certain times there is still gridlock.
According to LeGrand a number of potential focus areas in and around Fairfax, including Occoquan and approaches to the Springfield Interchange are recognized in the study. The study team will evaluate and consider not only potential capital improvements, but also operational upgrades to the highway and parallel, major routes that connect to I-95. Multimodal options will be considered.
There are three meetings planned this month to look at the options available, where drivers, residents and other stakeholders can learn more and provide feedback in person, by email or by taking an online survey at va95corridor.metroquest.com. The first comment period will end Aug. 21. Additional comment opportunities will be available throughout the study period.