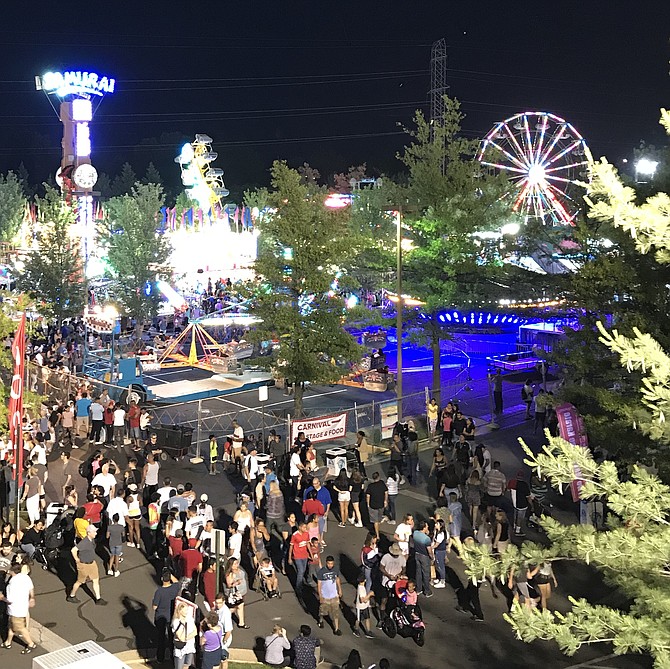 The old saying, "Change is Hard," apparently didn't have a chance at the 2019 Herndon Festival. Moving the festival to a new location due to the pending redevelopment project of downtown Herndon, the festival, now in its 39th year, pulled up roots. Taken in by Northwest Federal Credit Union, the free 4-day festival featured two entertainment stages, carnival, business expo, Kid's Alley with children's hands-on art and an eclectic variety of food and craft vendors.
According to patrons, vendors, volunteers and staff at the festival, the new venue, bigger and more spacious with grass and trees, proved to be better than ever.
Yes, it was different, and yes, a whole new set up had been devised and implemented, and of course, some tweaking will be required. However, the added space gave a little breathing room; visitors filled the provided entertainment seating as volunteer Mike Mcintyre said.
The midway filled with people out to enjoy the event and time with family and friends; and the 10K/5K races went on as before; courses marked through historic Herndon.

The Connection asked Festival-goers for their reactions to the new site. In the end, as Carol Wright, a volunteer said, "Herndon's heart is still at Festival."
"We were accustomed to everything over there, and it was easy. We were used to it. We will get used to the new way. It'll take a little adjusting." —Joe Spence, Equipment Manager Herndon Department of Public Works.
"I like the extra room we have here. The people are so friendly, and we look forward to coming every year." —Jerry Mathews of Tender Ribs
"The only thing I wish is to enhance the chain link fences, maybe some screen murals, art by local youth, artists, anyone. Make it look a little friendlier. Now then, there are no local restaurants for us to compete with here." —Jasmine Faubert of Optimist Club of Herndon
For 5K/10K Race results, visit https://wolfcreektrackclub.com/herndon-festival-5k-10k/.