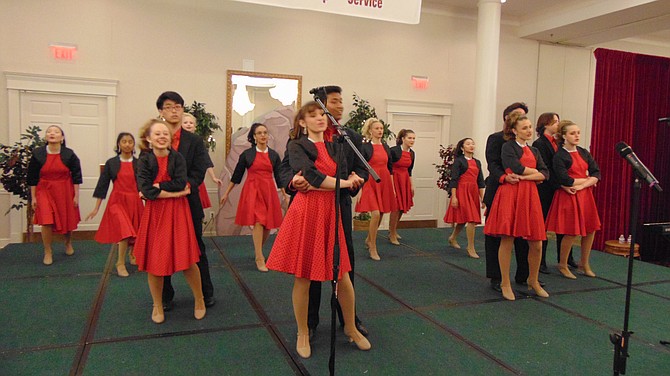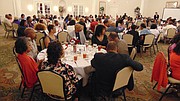 As part of its 30th Anniversary celebration, Antioch Baptist Church in Fairfax Station gave $2,000 educational grants to 11 Title 1 elementary schools in Fairfax and Prince William counties at its Gospel Jazz Luncheon at the Waterford at Springfield on Saturday, June 1, 2019. The catered event also featured the Chantilly High School Show Stoppers, show choir and other local performers.
Some of the diverse school projects that received funding ranged from "Launching a Robotics Club" to "The Dolphin Book Mobile" to "Growing Their Own Food" and "The Spatial Temporal Math Program."
THE FOLLOWING SCHOOLS were awarded: Lynbrook ES, Springfield; Lake Anne ES, Reston; Loch Lomond ES, Manassas; Featherstone ES, Woodbridge; Bailey's Upper ES, Falls Church; Sinclair ES, Manassas; Glen Forest ES, Falls Church; Minnieville ES, Woodbridge; Annandale Terrace ES, Annandale; Suella Ellis ES, Manassas; Bucknell ES, Alexandria.
According to Marshal Ausberry Sr. Pastor of Antioch Baptist Church: "Instead of doing a big, huge banquet, we really look introspectively to say what can we do to further impact our community around us. So, we came up with the idea of Education Impact Awards," he said.
"The purpose is to infuse schools with $2,000 that they come up with creative projects to broaden the exposure of the children, and we found that children that have more exposure like visiting a zoo or a museum or some creative activity or something that would enhance math or reading skills or comprehension -- that student tends to do better long-term," he said.
He continued: "We see it as a win-win as part of our community that we want our community to know we want to support education, as education has been a way of raising people up and also opening doors."
According to Beverly Wilson, Co-Chairperson of the 30th Anniversary, "We had 70 schools we sent applications out to and over 40 schools that actually applied and we have a committee that literally sat down and read through the different programs to select the recipients who are being honored today," she said.
THE RETIRED HIGH SCHOOL PRINCIPAL added: "We love the community; we're reaching out to the community in as many different ways as we can and we typically do that with our missions projects. Our missions' projects can take us to the communities of Burke, Fairfax Station, and we can reach out into the international world to do our missions. We just love the Lord and we certainly embrace the whole concept of faith, worship and service to those in our community."
Glen Forest Elementary in Falls Church was awarded a grant for its Eagle Engineer Program, according to Tiffany Young, Assistant Principal. "This will impact a large number of students and give our earliest learners an opportunity to participate in STEM activities, to concentrate on problem-solving. We're very grateful. We were able to secure funds for our preschool and kindergarten students. We have 1,100 students who represent 53 countries and speak more than 29 languages, and we are a Title 1 school. In our Kindergarten classes we have 180 students; in our preschool classes we have 58 students," she said.
Added Alicia Simonds, third-grade teacher at Bucknell Elementary School in Mount Vernon. "We have the Lego Robotics Team for third through sixth grade. We meet each week and program robots; the kids learn to code; the kids learn how to put the robots together. They have a competition they are able to compete in. I plan to buy some other robots for the STEM teacher to use with the lower levels in grades K through third grade. It will benefit the students because they'll be able to do more hands-on things," she said.
Diane Overton, Advanced Academic Resource Teacher at Lake Anne Elementary in Reston, said: "The money we are receiving from Antioch will be used so that we can have a Book Mobile to hand out free books to our students, sit down and read with them and work together as a community to help make sure that our students are reading during the summer. And we'll also have popsicles to make it fun."