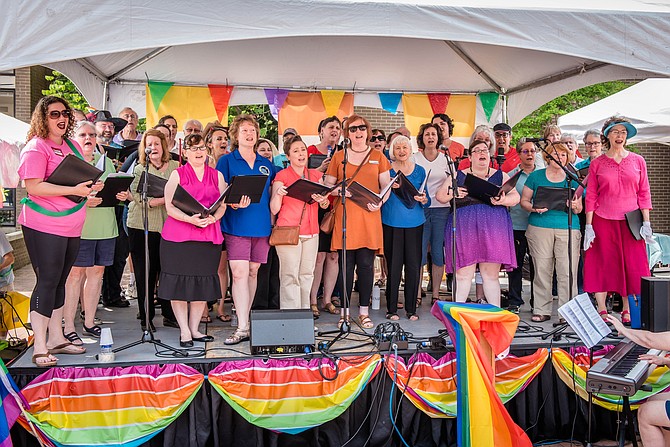 Lake Anne Plaza was transformed into a rainbow-filled venue for the 2nd Annual Reston Pride Festival held Saturday, June 1. More than 5,000 people, ranging in ages and backgrounds, attended the event which featured choral groups, dancers, and speakers plus over 55 LGBTQ+ exhibitors and vendors.
The event was co-sponsored by three Reston churches, Universalist Unitarian Church in Reston, St. Anne's Episcopal Church, and United Christian Parish. Other area religious institutions were also key supporters, including Washington Plaza Baptist Church, Northern Virginia Hebrew Congregation, Restoration Church, and Unity of Fairfax. Many of these churches also had their choirs and faith leaders sing and speak at the event. Reston Pride was designed to be a celebration and an opportunity to show support for members of the LGBTQ+ community.
Del. Ken Plum, Supervisor Cathy Hudgins, and Sen. Janet Howell were on hand to welcome attendees to Reston Pride. Del. Plum recalled the history of Lake Anne Plaza and of Reston which was created as an "open community," meaning people of different races could live together openly. He continued to say that is time for people who love each other to be able to do so openly. Del. Danica Roem spoke separately. She reflected on the road that lead to successful events such as Reston Pride and the tremendous sacrifices and struggles that came before.
In addition to community choirs and speakers, attendees at Reston Pride were treated a variety of musical performances. Delta B Knyght, a DC-based drag performer, and Ken Williamson, minister of music for Washington Plaza Baptist Church, were the emcees for the event. Rev. Michelle Nickens, minister of Washington Plaza Baptist Church, penned and performed Reston Pride Blues, a catchy song designed to capture the spirit of Reston Pride. Monika Chaturvedi and friends provided a bit of international flair with a Bollywood Dance performance. Musician Laura Tsaggaris closed out the festival with her sound of modern folk music.
Lake Anne Merchants and Professionals provided a moon bounce, bubbles and chalk, an interactive snow cone maker and transformed the Lake Anne horse sculpture into a unicorn, making the event truly family-oriented.
More than 60 volunteers offered their time to help make Reston Pride run smoothly. The festival was made possible thanks to sponsorship by Google, Reston Community Center, sb LiftOff, Cruise Planners, and Volkswagen.

The Reston Pride planning committee is already looking ahead to the 3rd Annual Reston Pride on June 6, 2020.