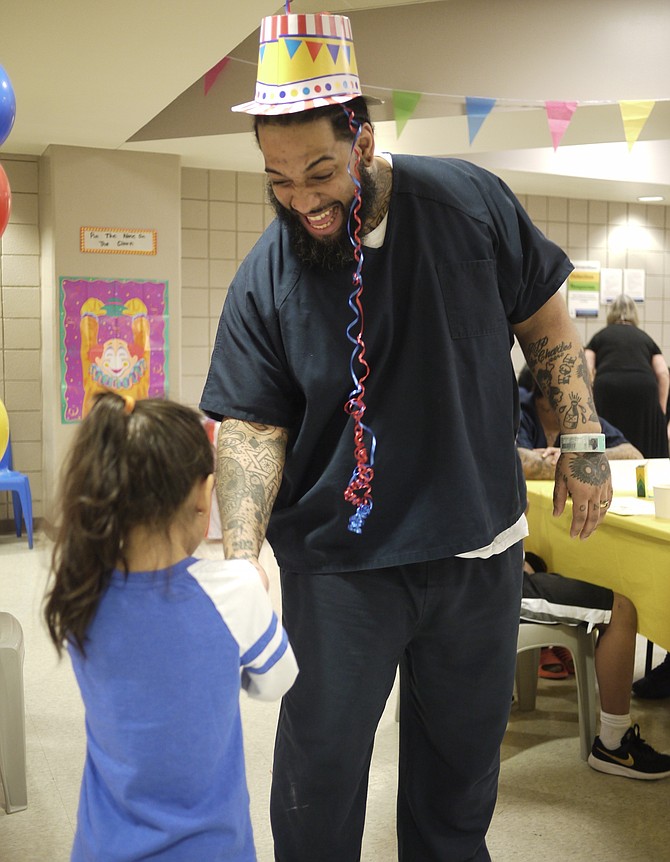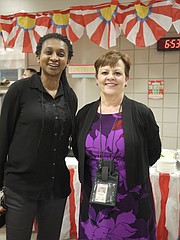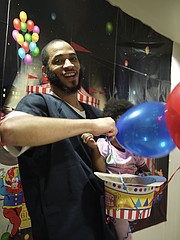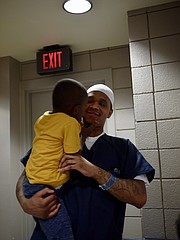 "These men are not going to be in prison for life: they are going to come out and be your neighbors, your fellow parents, on the sidelines of your local soccer game, your drivers, standing in line at Safeway. They deserve to be treated as members of the community, restoring their rights and giving them the tools to start over." —Camille Watkin, Arlington County Detention Facility case manager
Ben Callender's daughter couldn't say enough about her dad: "He's nice and a good dad. And he really cares about me." Callender had an easy rapport with his daughter, but it hasn't been easy keeping up a relationship when he is behind bars, and she lives in Pennsylvania with her mother. "I've been here two and a half years," he said. "I'm waiting to hear right now if I can get a sentence reduction."
Callender had nothing but nice things to say about his time at the County Jail. "I've never missed one of these parent visits," he said. "I really appreciate the fact that this is a progressive detention facility, and offering these kinds of events for parents and children is huge for us. It's so hard otherwise, to maintain a relationship with your kids."
Callender keeps busy during his three-year sentence — he's been there for two and a half years — taking advantage of just about everything the jail offers: the Georgetown University courses that are taught there, creative writing projects, fatherhood classes.
"Sheriff Arthur is the reason we have these opportunities," he said. He is also a big reader. "Have you read "Choke Hold?" he asks. And "The Fire Next time? You gotta read that." There is no internet, no cell phone, and no email capability at the facility. His friends send him books, or he takes advantage of the library at the jail. Callender said he and at least 30 other inmates are looking forward to exercising their vote in the upcoming election. They will be voting for candidates who recognize the benefits of restorative justice.
Wendell Bates was spending time with his two sons, 10 and 11. He has been in jail for 9 months of a 12 month sentence. He said he was drinking and got in a car accident: to make matters worse, he left the scene of the accident, not because he was trying to avoid responsibility but because a bystander offered to take him to get first aid.
"Yeah," he said, "It's hard not being at home and my sons need me there. I just spend a lot of time on the phone with them." Bates was optimistic about getting out and back to his business. He was appreciative of the way the jail encouraged family visits.
Camille Watkin was watching the men attentively, facilitating their reunions with their children. Watkin and her colleagues care about the men who spend time in jail. She is a strong believer in restorative justice: "The men who are in the county facility are not going to be in jail forever," she said. "When they get out, they want to start over. They need the skills to do that. But many of them have never had the slightest amount of 'life skills' mentoring. So, we teach them 'how to fish.' We teach them from the very beginning: hygiene, nutrition, mental health, parenthood."
Watkin said she was a deputy sheriff before becoming a case manager. "This is so much better. I see men go out and succeed. Two of my guys are at Whole Foods with good jobs. We teach them creative writing and they write amazing things. We teach them how to deal with trauma, both the trauma of having been in jail, and sometimes trauma they haven't dealt with since they were kids fending for themselves. Society needs to support restorative justice: these guys are going out soon to rejoin the community. They are your neighbors, your drivers, your fellow parents. You want them to be okay and for the fabric of the community to welcome them back, not treat them as pariahs."
Arthur has been in her job for 18 years. She has been looking for ways to prepare the inmates of Arlington County Jail for life after incarceration. One of her projects is the Community Readiness Unit (CRU), established in May 2018. It focuses on individualized reentry planning, work readiness and programming for substance abuse, mental health and life skills. She and Watkin believe keeping children in touch with their fathers is important at many levels, particularly in reminding fathers what is important in their lives.