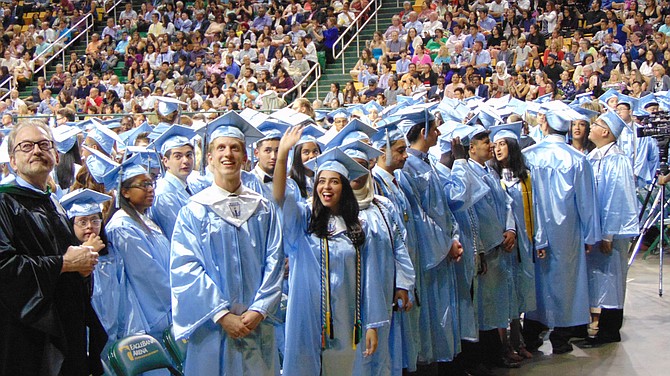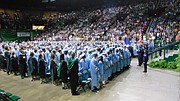 Centreville High School held its 28th commencement ceremony for the Class of 2019 on Friday, June 7, 2019, at GMU's Eagle Bank Arena in Fairfax, where 615 students graduated.
New Principal of Centreville High since January, Chad Lehman gave the welcoming comments by highlighting the school's crest: "Today Decides Tomorrow." "Since Centreville's opening in 1988, these words have been connected to the mission of the school. And maybe you've never noticed these three words or stopped to think about their significance despite the placement on the main entrance of the school wall or on your program covers tonight. But on your graduation day, they could not be more important," he said.
He continued: "What I've learned is the Class of 2019 will be remembered as a brilliant, creative, hard-working, talented and kind. You've made some major accomplishments during your time at Centreville. You've earned athletic titles and musical recognitions; you've conquered the AP curriculum and SOL exams, and many of you speak multiple languages. And that art that you've created simply blows my mind."
THE CENTREVILLE CLASS OF 2019 had some impressive statistics: More than $5 million in scholarships were awarded, including two full ROTC scholarships to Duke and NC State; 65 percent of grads will be attending four-year colleges; 24 percent attending two-year colleges; and 457 are attending state institutions. In addition, 339 students had one or more paid jobs while in school; 344 seniors participated in a service learning opportunity; 176 students interviewed or shadowed a professional at a job site; 96 worked with a mentor; 69 completed an internship; and 336 attended a college or career fair.
Former Centreville High Principal Dave Jagels, the guest speaker who is now Region 5 Executive Principal who received thunderous applause, added: "Being your principal was the best job I ever had...I often thought of you as my own kids…."
He continued: "When I reflect on my life and I really thought about what made me the happiest, I thought about relationships I've had with family, friends, colleagues, and coworkers, it was really the importance of these relationships that resonated with my own happiness. It's our relationships -- our connectedness with each other where happiness resides…. you'll find true happiness when you accept yourself for who and what you are."
Cara Patrick, who gave the Centreville Scholar Address, cited from the book, "Wonder," about choosing between right and being kind – saying that we should choose kindness.
She highlighted the constellations in her speech by using the acronym "S-T-A-R" – saying, "You're strong, talented, authentic and radiant (S-T-A-R) …. The fact of the matter is there are so many constellations here tonight. We are all a star in someone else's. Some might be bigger and brighter but they are all there. Walking across the stage tonight may not be one small step for man, one giant leap for mankind, but it is a leap into the future. As we blast off, please remember that constellation…. care, open new doors, never give in, spread love, throw away doubt, eat well, live boldly, let life give you lemons, act with grace, take chances, involve others, overcome obstacles and normalize kindness," she said.
Amy Balint presented the Faculty Award to Alexa Cuomo for her character, scholarship, school and community contributions. "It is the student who best exemplifies what it means to be a true wildcat," she said. "When it comes down to it, this student is the full package."
She said Cuomo was involved in variety of choirs, National Honor Society, German Honor Society, Math Honor Society, Women in Mathematics and the Key Club. She set multiple school records, and competed in national swim meets, including going to the Olympic trials for the 2015 Summer Olympics in Rio.
FOR THE MUSICAL INTERLUDE, the Centreville High School Band and Choral Department performed, "America the Beautiful," which was directed by Melissa Hall and Lynne Babcock. And as people in the arena held up their cell phone flash lights, Cindy Tran and Sung Jeon Choi gave the musical selection by singing, "Wherever I Go," by Hannah Montana.
Marissa Yee presented the class gift of a Spirit Wall for students to paint.