To drive home the point of recovery and rehabilitation, Lauren Unger uses her movie production skills and outreach methods to hone her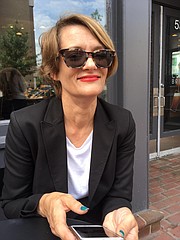 professional efforts. Unger's films have taken her in other directions as well, such as the American Film Institute's 2019 Film Festival, where her recent film called "Broken Path," earned her a potential spot in their upcoming film festival on June 27.
AFI has already recognized Unger with the "Spirit Award," when they saw her handing out postcards to promote "Broken Path," and she's hoping for more exposure at the festival. The movie deals with unemployment and emotional hiccups for a transgender youth who is trying to find a path in life.
"I think just raising awareness and reducing the stigma" are reasons she gave for creating the film, but she did admit that even though she's employed with Fairfax County as a developmental disability specialist, filmmaking is her dream job. This way, she's combining both. "It's definitely the best movie I've made," she said.
Unger is an Alexandria resident who grew up in Iowa and moved to Alexandria years ago to attend George Mason University, where she earned a degree in human services. She's a licensed substance abuse counselor that uses film to gather attention, she said.
She currently works at the Community Services Board in Mount Vernon, where people with little or no skills can show their talents in a low-key environment, and maybe move to a regular job from there.
"The goal is to put it on their resume so they can get a job," she said.
Unger gets about 50 people a year into jobs. "I think it's important what I do," she said.
On the film side of her life, she's created a film company called "Propping Up Recovery," and does projects along those subject lines. "We're called tools for change," she said. Her first film was "Claire's Day," and it's an action-adventure film about a woman that works in the employment field, but hits a couple of stopping points in her efforts before getting back on track. Before a round of editing of the original, "she kills somebody, but I changed it," Unger said.
Shooting an action-adventure film takes an extra effort, so she searches out help from friends and acquaintances. "I had an amazing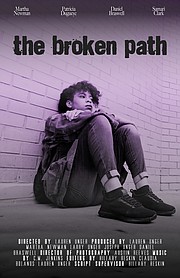 cinematographer," that crawled on his back during the shooting scene. Then for music, which can lead to copyright issues for filmmakers, she worked with named CM Jenkins from Baltimore, and Sakinah Iman, who "loves it, she lets me use it for free," Unger said.
Earlier this year, Unger got a "Women in Film," award in the Women's Film Challenge category but the movies are still just a hobby. "I don't think my colleagues know I do it," she said.
This summer, Unger is working with the Alexandria Workforce Development Center with the TeenWorks program for summer interns to make commercials and gain experience in the film business. She also has her sights on a documentary of sorts in Puerto Rico, focusing on the way the island nation has come back from Hurricane Maria. She's been in touch with some companies that have returned after the devastating storm but may have to travel there in late summer to see how it really is. "I don't know how it's going to go," she said.