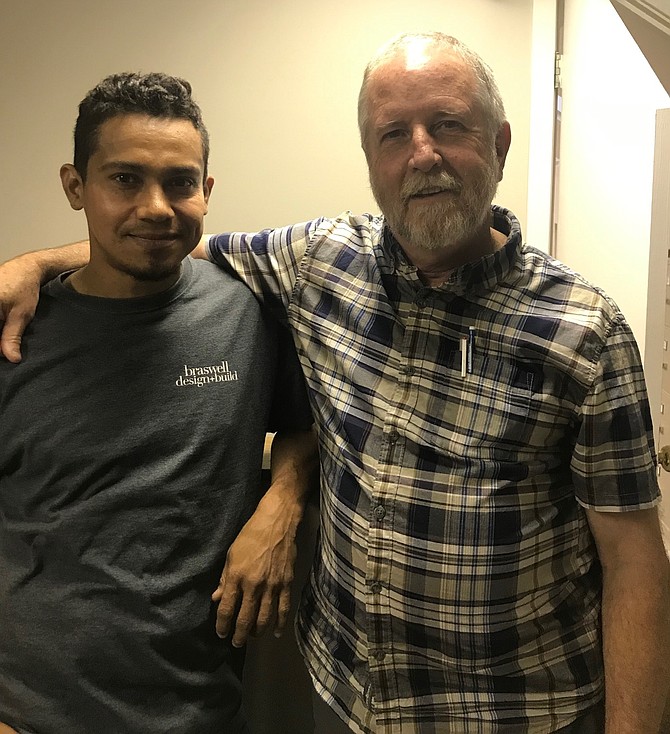 Every single day is a struggle for Eduardo Barahona, who has been battling chronic kidney disease for more than seven years. As his kidneys gradually shut down, Barahona – an Alexandria resident – is in constant discomfort, and often in flat out pain.
"In the last three years especially it's gotten harder and harder to work," Barahona, who works for local home renovation firm Harry Braswell, Inc., said. "I get dizzy spells, and I am not able to sleep through the night, so I'm not at 100 percent. Working in the field, being in the heat or the cold has a negative impact on the disease and how the treatment works. The treatment itself [which includes dialysis] also takes a toll on my health."
Kidneys enable the human body to excrete waste, extra fluid, and certain acids. Without a properly functioning kidney, Barahona's blood pressure, red blood cell count, and bone health are all in peril. And despite having to endure all of this, Barahona can't just take it easy. He is the main source of financial support for his wife and 11-year-old daughter, and, despite that he has their invaluable love and support, what he really needs is a kidney transplant.
"What it is doing to my family is the hardest part," Barahona said. "It has been very hard on my daughter, especially in the beginning when we found out. She went through a period of depression, which affected her school performance. My daughter has wished that she was older so that she could be tested and be a match to donate her kidney."
Barahona has been working at Harry Braswell, Inc. for more than a decade. For many of these years, he worked to hide the havoc that his failing kidneys wreaked on his body.
When he could no longer hide his suffering, the Harry Braswell team rallied to his side and are now on a mission to find Barahona the kidney he needs to live – generating publicity, spreading awareness about Barahona's situation in every way possible.
"Eduardo didn't ask or have to ask," said Harry Braswell, owner of Harry Braswell, Inc. "When I heard the problem, I decided that I had to help any way I could. I tried to donate and it was found my kidneys didn't qualify. Now, my goal is to help Eduardo get a kidney so he can live a full life and be a productive member of society. Going through this process has made me realize the problems people had getting what they need to solve these medical issues. This issue of kidney donation is a totally solvable issue, but it takes awareness and people to be willing to care."
Most people will go their whole lives without ever needing a kidney transplant, taking their healthy organs for granted – perhaps even assuming that finding a kidney wouldn't be too complicated. After all, humans only need one healthy kidney to survive.
What Braswell has learned through this process, though, is that kidney donation takes more than a willing participant. Certain antigens within a potential donor and recipient, as well their blood types, must be compatible.
In other words, it is never a given that a blood relative will be eligible. For example, siblings only have a 25 percent chance of being able to donate kidneys to each other. Being on the official Kidney Donation Waitlist — where many must wait for years — is no guarantee, either.
Several Harry Braswell, Inc., employees were willing to donate, going as far as to complete testing, but none of them were a match. For now, Barahona remains on the waitlist.
"I'm not sure how much longer I'll be on the waitlist — hopefully not long," Barahona said. "Sometimes I go through moments of depression, anxiety and lack of hope. I have made friends where I get my dialysis treatment who are also on the waiting list and unfortunately some have been waiting 10 years or more and have lost hope."
Although Barahona moves forward with uncertainty, he has a support system comprised of family and friends determined not to let him lose hope.
"I did not have to ask for the support once coworkers were aware that I did not seem the same," Barahona said. "One day, I fell ill at work and had to go directly to the emergency room. Once I was back at work, my coworkers were concerned and I discussed my situation with them. Then [someone] told Mr. Braswell about it, and he has been my angel."
Braswell hasn't thought twice about his relentless pursuit of a kidney for Barahona.
"Eduardo is an ideal employee," Braswell said. "He's smart, quiet, always does what is asked, and he has learned and progressed tremendously over the years. We have always called him Superman for his ability to lift and do things other people aren't able to do, and without complaints or sweat. He makes things look easy."
Of course, things are far from easy for Barahona. And the road to recovery after any organ transplant is never easy for anyone. Still, it's Barahona's only hope.
"Getting a new kidney means that I would be there for my family," Barahona said. "That's what would make me happy."
To learn more about how to help Eduardo Barahona, call Kristen Curtis of Inova Fairfax Hospital — where Barahona receives treatment — at 703-776-8053.