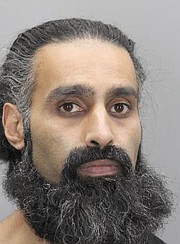 In late December 2018, local residents were shaken up when Fairfax County police alerted them that a man had been filming customers in Fair Oaks Mall while they changed clothes in store dressing rooms. And last week in Circuit Court, that man – Mumtaz Rauf, 39, of Alexandria – pleaded guilty to four counts of unlawful filming.
"Are you entering your pleas freely and voluntarily, and because you are, indeed, guilty of these charges," asked Judge Grace Carroll.
"Yes, Your Honor," replied Rauf.
The incidents occurred Dec. 22 and Dec. 24 and, according to Rauf's grand jury indictment, involved filming "non-consenting persons' exposed genitals, pubic area or female breasts when they had a reasonable expectation of privacy."
On Dec. 24, around 4 p.m., police were called to the Forever 21 clothing store following a customer's complaint. A teenage girl said she saw a black device, such as a camera or cell phone, pointing down from the wall of her dressing room, and she believed photographs were possibly being taken. A store employee then saw a man leaving the store and heading into the mall and described him to police.
OFFICERS FOUND HIM in the fitting room of the H&M clothing store and identified him as Rauf. He was wearing a black jacket, red knit beanie, khaki pants and red shoes, which matched the description provided by the store employee.
Police said Rauf had a pinhole camera, black tape and a battery-powered, Bluetooth transmitter that officers believed he was using to remotely gather video and pictures from various fitting rooms. Rauf was charged with felony unlawful filming of a minor, since the victim was under age 18.
Detectives from the Major Crimes Bureau continued to investigate and found more than 100 videos on Rauf's phone. They then identified three additional females recorded in store dressing rooms over the holidays, after these victims contacted them. As a result, on Jan. 23, police charged Rauf with three more counts of unlawful videotaping, and he was held on $7,000 bond.
On March 28, in Juvenile and Domestic Relations Court, he waived his right to a preliminary hearing. Judge Michael Valentine then certified his cases to the grand jury for possible indictment and remanded Rauf back to jail. The April 15 grand jury then indicted him on one felony and four misdemeanors – one of which was later dropped.
Last Wednesday, June 12, Rauf – who is more than 6 feet tall – appeared in Circuit Court to enter his pleas. Carroll made sure he understood that, by pleading guilty, he was giving up his right to a trial, to confront witnesses and to appeal his conviction.
Furthermore, she asked him, "Are you aware that – because of your guilty plea on count one [the felony], you'd lose your right to vote and to own a firearm?" Rauf answered affirmatively. She also told Rauf he could receive a maximum punishment of five years in prison on that charge, as well as one year in jail and a $2,500 fine for each of the three misdemeanors – and that she could even run all these sentences consecutively.
Assistant Commonwealth's Attorney Meghan Gosline then presented details of the prosecution's case against him, had it gone to trial. She said that, after police responded to the Forever 21 store on Dec. 24, the young victim told them "A man looked over the top of the dressing-room door and photographed her while she was changing."
And after police caught up with Rauf in H&M, said Gosline, "He told them he'd been in Forever 21 before that. A device was found on him, and he told police he'd put it on top of the dressing rooms and film the victims and then watch the footage on his cell phone. He said he did it in Forever 21, H&M and Old Navy and watched two females who were in Forever 21 and three who'd been in H&M."
IN ADDITION, Gosline said police executed a search warrant at Rauf's home and seized two small digital cameras – one of which that looked like a pen. She also said police found the videos he'd taken of the four victims for which he'd been charged. Gosline said the felony offense was because one of those victims was just 13 years old.
Judge Carroll then formally accepted Rauf's guilty pleas and convicted him of all four charges. She ordered a pre-sentencing report be made on him and set his sentencing for Sept. 13. She also ordered him to remain in jail until then.