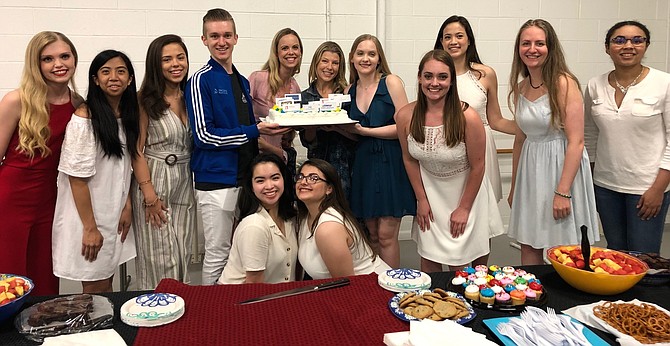 Metropolitan School of the Arts (MSA) of Alexandria recently named its 2019 graduates from its Academy and studio. One graduate, Beth Mann of Springfield, earned a scholarship to the Richmond Ballet Trainee Program in Richmond.
Other graduates include: Anna Asesor of Alexandria, to attend Virginia Commonwealth University; Sarah Carnell of Clifton will attend William and Mary University; Cassie Chamblee of Springfield will attend University of South Carolina; Amy Cooper of Woodbridge to attend Virginia Commonwealth University; Emma Feddo of Alexandria to attend University of Utah; Erin Folger of Springfield will attend University of Arizona; Emily Gross of Burke. to attend George Mason University; Sofi Harai of Alexandria will attend Berklee College of Music in Boston; Samantha Haughton of Alexandria to attend James Madison University; Kyra McCall of Stafford will attend Pennsylvania State University; Justin Perez of Alexandria to attend James Madison University; Brian Selcik of Alexandria will attend Roosevelt University; Ashtyn Spring of Springfield will attend Liberty University; Sylvia Taylor of Springfield will attend Boston Conservatory at Berklee College of Music; Elpida Voryas of Alexandria will be a trainee at the European School of Ballet in Amsterdam; Jason Voryas of Alexandria will attend Northern Virginia Community College; Logan Waddell of Lorton to attend University of Mary Washington; and Mariah White of Lorton to attend James Madison University. For more information, go to www.metropolitanarts.org.
Mann is only one of 20 successful candidates to earn the nationally recognized Richmond Ballet trainee program scholarship. The program offers talented, advanced students a transitional experience that bridges the gap between the academic ballet setting and the world of professional dance. The Richmond Ballet Trainee Program is one of the few in the U.S. that enables aspiring dancers to pursue formal dance training and gain valuable performance experience with a professional company.
Mann also took the Solo Seal exam at the Michael J. Fox Theater in Vancouver. The Solo Seal Exam is a series of solo performances on stage in front of an audience and two judges. With more than 80 candidates worldwide, only about 20 Solo Seal Awards are presented.