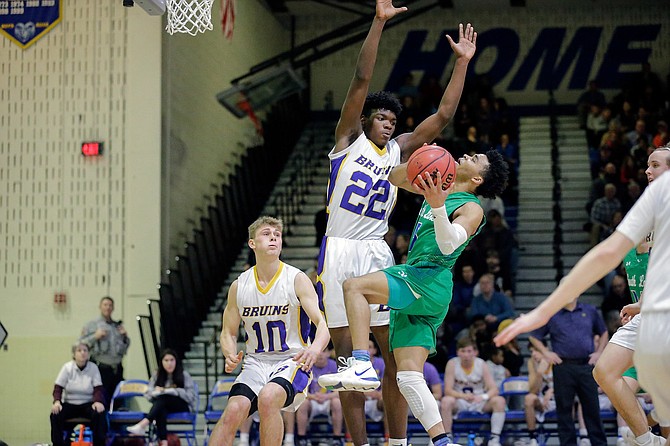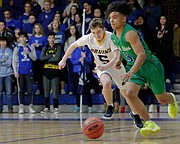 The South Lakes Seahawks (19-8) took on the Lake Braddock Bruins (23-3) in a 1st round VHSL State game on March 1.
The Bruins came into the game scoring more than 100 points seven times during the regular season, but not having done so since putting up 120 points in a win over West Springfield, 120-83. The Bruins registered their fewest points in a game this year in their win over South County 68-56 which advanced them to this game. South Lakes came into the game having scored more than 80 points just once all season in a win over Washington-Lee 85-55.
The first quarter lived up to the hype of the up tempo frantic pace that Lake Braddock has been known for. Six Lake Braddock players made a 3 point basket in the quarter, while three players for South Lakes connected on a 3 pointer and Lake Braddock established a lead of 30-24 after playing eight minutes.
In the second quarter it was more of the same, the two teams combining for 50 points — Lake Braddock scoring 26 and South Lakes 24.
South Lakes down just 8 points, 56-48 to start the 3rd quarter, kept pace with the Bruins trading baskets throughout the quarter. However, Lake Braddock's lead grew to 77-68 with one quarter to play.
The Bruins continued to substitute as they regularly do, sometimes five players at a time, keeping the energy , and pace going with fresh bodies every few minutes. Six players would score at least a basket for Lake Braddock in the 4th and the Bruins would wear down the Seahawks 26-15 in the quarter and close out South Lakes season, 103-83 to advance to the next round against the winners of the other game South County, last year's Virginia 6A State Champion.
Lake Braddock was led by Quenton James with 24, James Grable had 22, David Solomon 17 and Nick Margraf had 11. South Lakes was led by Brian Adams 19 points and Cameron Savage 17.