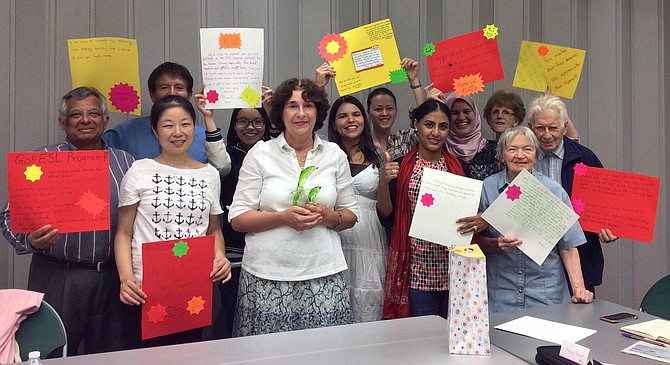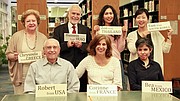 One-to-one English Conversation classes are part of the Learning English programs at the Reston Regional Library. While the free classes provide practice sessions to individuals seeking to learn English as a Second Language (ESL), ultimately the lessons rendered much more and will continue to do so according to Ivanka Atanasova, retired Library Information Assistant at Reston Regional Library who had been charged with coordinating the ESL classes.
According to Ha Hoang, Assistant Branch Manager Reston Regional Library, Atanasova also worked closely with the volunteer ESL instructors. Under her direction, the program grew. "There were a few one-to-one conversational sessions ten years ago," said Atanasova. "I created the first conversational ESL class with a handful of students ...Today the program serves approximately 350 English as a Second Language (ESL) learners each month and has 30 instructors," she said.
What makes the Reston Library program special, Atanasova said, is that in addition to learning English, the ESL classes foster community, integration and professional growth, benefits echoed by the students and their teachers.
"There is no other place like the Reston Library and its ESL program," said ESL student Beatriz Sandoval formerly of Mexico. "I haven't felt that sense of community and integration anywhere else... You also get to know amazing people from all around the world in a respectful and friendly environment."
Student Rozita Fahimi of Iran said that when she and her family moved to the United States seven years ago, she and her son could not read, write or speak English. "We found many good friends in the Reston Library ESL classes. We did not feel lonely any more in our new country … Since my background is children's psychology, I found a job in a Children's Center," she said.
Teacher Dorothy Gudgel holds a Master of Arts in Teaching English to Speakers of Other Languages (TESOL). She said that initially she substituted for an advanced class, and then went on to teach "Speak and Write." Gudgel thanked Atanasova for bringing her on board with "all the other wonderful, talented ESL teachers in our library program. We do our best, every week, to give back to our immigrant community the opportunity to learn English in their adopted homeland, America," Gudgel said.
Teacher Robert Muzzio is reportedly one of the longest-serving volunteers at the ESL program. Muzzio said, "People of all backgrounds and cultures meet, interact socially and make new, and in some cases, lasting friendships. Ivanka [Atanasova] has created an enormously successful program which is benefiting all participants and the community at large."
Atanasova said that as she prepared to retire, she transferred all intellectual knowledge to Reston Regional Library staff. "I took care that the program continued," Atanasova said.
On Monday, March 4, Katilyn Miller, Regional Branch Manager Fairfax County Public Library Reston Regional Library announced that after searching for the perfect employee to fill the job, "We've only now just hired Atanasova's replacement. We anticipate she will keep the ESL Program going strong."
To learn more about the free program, Learning English at the Reston Regional Library, visit fairfaxcounty.gov/library.