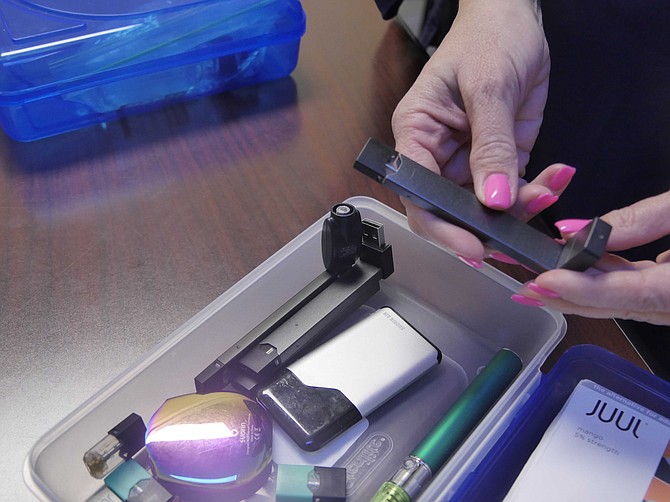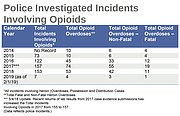 Arlington's major anti-opioid efforts began in January 2017 when Detective Charles "Ed" Bane came to Department of Human Services (DHS) Residential and Specialized Clinical Services Bureau Chief Suzanne Somerville and said, "We've got a problem. We're getting swamped with opioid addiction. We need to do something."
Bane says he started focusing on the issue in 2015 when it was on the news and Internet, and heroin and opioids were having a real impact, "but Arlington wasn't yet affected."
But Bane saw an unexpected jump in the numbers in 2015 and "by 2016 I went to my boss and said 'we've got to buckle down; this is going to hit us hard. That's when they went to Somerville and presented the numbers. "It was a shock to her and to us as well."
Overdoses reported to police had gone up from 10 in 2015 to 45 in 2016 and were to go even higher in 2017 to 74. Bane, a former Arlington narcotics investigator in the late 1990s, said, "That's the funny thing about this. It isn't like the stereotype heroin user." These numbers cut across age, gender, race ethnicity, and geography with zip codes 22204 and 22202 in south Arlington and 22207 in north Arlington hardest hit. Bane says the highest target age for ODs in Arlington is 32-40 years old, "an odd age." He emphasizes that these numbers represent those reported to police.
Even these numbers underestimate the problem. Emily Siqveland, assistant program manager, SA Residential Services and Office-Based Opioid Treatment, Arlington County DHS, says these statistics don't include unreported high school overdose victims. "Parents may be seeking treatment for their children independently, without reporting their concerns to us," she noted.
Bane said there are also quite a few non-reported overdoses from people reviving each other.
THIS INITIAL CONVERSATION launched what has now become a massive effort that cuts across the community and includes outreach, information and prevention. Arlington Addiction Recovery Initiative (AARI) was established by DHS and the Arlington County Police Department in 2017 and has now branched out to include police, fire, sheriff's office, Commonwealth Attorney's Office, probation, public schools, non-profit organizations, treatment providers as well as family and people in recovery.
"We meet once a month to discuss issues that arise, share our experiences, and do strategic planning," Siqveland said.
They focus on outreach to the community to increase prevention as well as treatment expansion and streamlining what is available to make information easier to access. "We're looking forward to using a 'cool tool' with SAFE project that will allow you to look for treatment across the region. We have a lot of people motivated to make a difference," Siqveland said.
SAFE is an organization founded by Arlingtonians Admiral James and Mary Winnefeld in November 2017 to work through "a collaborative, multi-pronged and non-partisan approach to end the nation's catastrophic addiction epidemic." They lost a son to an accidental opioid overdose during his freshman year in college after his struggle with opioids in high school and turned their grief into action.
Siqveland is on the AARI Community Outreach Committee that participates in community events at least once a month to share information. This has included such events as the County Fair, Farmer's Market, Nauck Community Day, Choose Health Fair at Yorktown High School and Employee Safety Week, panel discussions and two town halls. She said at the fair they engaged people by spinning a wheel and if they could answer an opioid question, they got a stress ball.
Siqveland adds when people have the opportunity to talk to someone one-on-one at these events they may say, "I think my brother may be using opioids, how can I tell?" Or they may ask for a list of family resources in order to help them know what to do.
"I'm not trying to scare people but this could be your friend," Siqveland said.
She had a woman tell her, "I need to carry Narcan. I'm not using but my friends are. They are teachers, functioning adults."
Siqveland says one of the challenges is how to connect with 18-25 year olds. "We're hoping to have bus ads out. We're looking at things like how to get information on the bathroom doors at a bar where they post advertisements."
AARI has created a brochure and flyers for first responders to hand out and have an active social media campaign. "One of my proudest accomplishments, and it doesn't sound like much, was to get a redirect line which is so much easier to access than the long url code. It's onearlington.org. Now people can remember it. It reduces barriers to getting treated." And it will fit on the side of an ARTS bus.
DESPITE THE STATISTICS, there are signs of diminished use of opioids in the last year. But whether there is a problem depends on where one's perspective. And it's too soon to know if this is just a blip in the numbers. Anne Marsh, Fire/EMS battalion chief, said, "We have 15,000 calls a year with 10,000 transports. Out of this number the cases of primary and secondary impressions plus administration of Narcan totaled 198 last year. "I'm not crying crisis. We just don't see it." She says they have seen the pendulum swing back on prescription drugs because they are now so hard to get. "We even have trouble getting the drugs that we need. So now people turn to heroin. There's no one more creative than an addict."
Statistics from the Arlington Partnership for Children, Youth and Families (APCYF) Youth Risk Behavior Surveys indicate that use of over-the-counter medication to get high has increased notably from 2 percent for sixth graders in 2013 to 11 percent in 2017 and use of prescription drugs for other than intended purposes has increased in particular for 12th and sixth graders.
But school counselors have seen the landscape change dramatically in just the last couple of years from abuse of prescription drugs to a shift to other addictive substances.
Jennifer Sexton, a substance abuse counselor for Kenmore and Williamsburg middle schools said, "We are not seeing abuse of prescription drugs at the moment but the bigger thing is electronic cigarettes." She takes out a box of confiscated JUULs, the pods that go into it and the docking device that charges right from a computer. "One of these pods is 200 puffs, equivalent to smoking a package of cigarettes, and it is very addictive. They market the flavors like cinnamon toast and mango to young people."
Siobhan Bowler, substance abuse counselor in APS for 15 years, now at Swanson Middle School and H-B Woodlawn Secondary Program, said, "If you think about it this way, the reason they like it so much is that it has all of these technical pieces of equipment. The kids just have to have them — just like getting a new iPhone."
Sexton said, "We do a lot of locker searching here, go up into the ceilings in the bathrooms to find abandoned containers." Her message is, "This is going down. Folks, this is here. Your kids could be exposed to it." She talks to community groups, PTA, holds forums and panels, and she is always there "keeping an eye on the kids."
Bowler has also noticed the change with much less abuse of ADHD medications to keep kids "going and going" to electronic delivery devices and drinking. She said, "Kids report they get enough of a hit to get them through the day from JUULing so they no longer need to use Adderall. But she said, "You can put anything that can be vaporized in a JUUL from K2, Spice to powdered alcohol to anything crushed. It's very upsetting how quickly they progress to marijuana."
In terms of high school "what youths really know about is alcohol — and I mean vodka — marijuana and oil." Bowler added, "Kids are not switching to opioids until after they graduate. "We have lost kids from our school system after they graduate."
BOTH SEXTON AND BOWLER talk about the importance of prevention.
Prevention efforts begin early with the Health/PE curriculum at the middle school level. Sexton's summer project was to help align the Health and PE curricula with the SOLs on substance abuse including alcohol, opioids, vaping, and tobacco."
Sexton explains addiction "to the kids whose brains are still growing and can't look beyond the moment and who could become dependent in five days" in terms they can understand. "It's equivalent to getting ice cream every day for a month and then you don't. You wonder where you are going to get your next ice cream. That's the mind of addiction."
Bowler said, "We know scare tactics don't work. We lead them through a low-pressure conversation." She also stresses the importance of working together with parents as a team. "I can't imagine what it would be like working in a school system that didn't have these resources. Here they trust our experience and want to learn what we know."
Bane says one of the worrisome trends in Arlington is a lot more fentanyl in drugs, "like mixed with marijuana. It's scary, and it adds another level of danger to handling the drugs." He added, "We don't even field test them anymore due to officer safety issues of exposure. It's 100 times more powerful than morphine."
Is it worth it? What's the point of the community efforts?
Siqveland said, "Addiction is so lonely. If we can just be that one light. Every time you revive the person, even if it is five times, it may not be this time but it gives you one more opportunity.
"What I love about it so much is it is cool to see so many of my community coming together to actually solve a problem. We're not just talking, talking, talking like a lot of the groups I know; it feels like we're actually doing stuff."
(This is the first in a series of articles focusing on the opioid epidemic in Arlington. The second in the series, next week, focuses on Inside Narcan Training.)