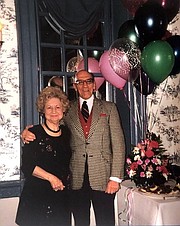 When Lewis Stearman was 14 years old, he took a job as a substitute carrier for the Alexandria Gazette newspaper. The year was 1938 and the company would turn out to be the only one he would ever work for, spending 43 years in positions ranging from accountant to editor, publisher, general manager and vice president. On March 4, the lifelong Alexandrian died at the age of 95.
"Dad was always reliable and steady," said Joseph Stearman. "He had one wife, one job at the paper and he stayed in the same house for 60-some years. We definitely had a solid upbringing – almost like Leave it to Beaver – and we may be the last generation to say that."
Stearman was born Feb. 8, 1924, in Washington, D.C., one of six sons born to Joseph and Esther Rose Stearman. His family moved to Del Ray when he was 6 years old and he attended public schools when his health allowed.
"Dad had rheumatic fever when he was a child so he was tutored a lot when he was young," Joseph Stearman said. "He even recalled overhearing a doctor tell his parents that he only had six months to live. He was about 8 or 10 at the time. It wasn't until he was in his 20s that he really got over it."
Stearman's grandparents were owners of a pawnshop and dry goods store across from the Alexandria Gazette newspaper, which led to his lifelong interest in journalism.
"Dad saw the value of a community newspaper and used the paper as a platform for serving others," added Joseph Stearman. "He always had a sense of service and spent his life serving his brothers and sisters in the community."
Stearman was one of 39 founding members of the Optimist Club of Alexandria in 1946. At the time of his death, he was the last surviving founder of the club. Stearman became an Optimist life member in 1952 and was chosen Optimist of the Year in 2007-2008.
In 1952, Stearman was elected to the board of directors of the Salvation Army in Alexandria. He served as chairman of the board in 1962-63 and again in 1986-87. He was honored as the Man of the Year in 1965 and 1967 and was presented the prestigious William Booth Award in 1968. In 1991, he was given a certificate for life board membership.
Stearman was elected to the board of directors of the Alexandria Boys Club in 1958. He remained an active board member for more than 30 years and assisted with the merger of the Alexandria Boys Club and the Olympic Boys Club.
In 1968, Stearman was asked to help establish the Alexandria Senior Citizens Employment and Services organization, now Senior Services of Alexandria. He became one of 16 founders and served on the board of directors as president in 1970-71.
"Mr. Stearman was one of the founders of Senior Services of Alexandria and was honored for his important efforts by the organization at the Founders Ball in May 2008," said former SSA executive director Janet Barnett. "He remained interested in improving the lives of seniors and was a faithful donor."
Stearman was a member of the board and trustee of the Maurice D. Rosenberg Lodge of B'nai B'rith International in Alexandria. In 1953 and 1968 he received awards for Outstanding Merit in Journalism for promoting better community relations through journalism.
"Lewis retired as general manager of the old daily Alexandria Gazette shortly after I began working as a rookie salesperson," said Gazette Packet publisher Jerry Vernon. "He was a gentle, kind and scholarly soul who loved to recount the history of the city as told through the Gazette lens since 1784."
Stearman was named a Living Legend of Alexandria in 2013. He and his wife Mildred were married for 68 years at the time of his death. The couple had three sons: David, the oldest died in 1999; Douglas and Joseph. In addition to his wife and two sons, survivors include 10 grandchildren and one great-grandson.
Funeral services will be held Thursday, March 7, at 11 a.m. at Beth El Hebrew Congregation, 3830 Seminary Road. In lieu of flowers, donations may be made to the Salvation Army of Alexandria or the Alexandria-Olympic Boys & Girls Club.
"Dad had good character and was a good, moral man," Joseph Stearman said. "There was no hidden secret. He was a solid guy who came out of the Depression and appreciated everything. When his life was spared as an 8-year-old, he dedicated his life to serving and helping other people."