2019 Peace Awards Recipients
Students from 22 Fairfax County public schools have been named recipients of the 2019 Student Peace Awards of Fairfax County, designed to recognize young people who work as peacemakers. The 2019 recipients are:
Annandale High School: Kora Corker
Cedar Lane School: Nick Price
Centreville High School: Deepika Joshi
Chantilly High School: Annie Wang
Edison High School: Reem Ali
Fairfax High School: Lara Demir
Hayfield Secondary School: Delina Kiflom
Herndon High School: Lydia Goff
Langley High School: Sumaiya Haque
Lee High School: Oscar Manuel Lopez Hernandez,
Madison High School: Hannan Mumtaz
Marshall High School: Luka Gabitsinashvili
McLean High School: Neha Rana
Mount Vernon High School: Burhan Ahmed
Mountain View High School: Romina Soleimani
Quander Road School: Lauren Haymes
South Lakes High School: Sophia Liao
Thomas Jefferson High School for Science and Technology: Angie Sohn
West Potomac High School: Diana Argueta
West Springfield High School: Laura Kirk
Westfield High School: Makee Neves
Woodson High School: Xuan Huynh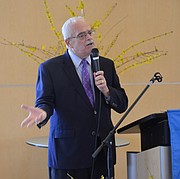 It's not easy to be the peacemaker. Sometimes it is really hard, especially when you make those around you, even friends, angry when you speak out and stand up for what is right. And sometimes it can be dangerous. But in all instances, being the peacemaker "requires courage and commitment," U.S. Rep. Gerry Connolly (D-11) told the crowd gathered at the Sherwood Community Center in Fairfax on Sunday, March 9.
Connolly, along with a host of sponsors, elected officials and a cheering collection of family and friends, had come together to honor the 23 young recipients of the 2019 Student Fairfax Peace Awards at a ceremony led by Margaret Fisher of program-founder Herndon Friends Meeting.
In addition to garnering kudos from the congressman, state Del. Ken Plum (D-36), Fairfax County Supervisor Penny Gross (Mason District), Scott Brabrand, Fairfax County Public Schools superintendent, and Karen Corbett Sanders, Mount Vernon District representative and vice chair of the FCPS board also officially offered their congratulations and admiration for the young activists.
Ryan McElveen and Ilryong Moon, members-at-large of the FCPS board, and Tamara Denerak Kaufax, FCPS board Lee District representative were also on hand to show their support.
THE EVENT'S KEYNOTE SPEAKER was David Swanson, an author, activist, journalist, radio host and co-founder and director of World Beyond War, a "global nonviolent movement to end war and establish a just and sustainable peace."
Swanson, a 1987 graduate of Herndon High School who identifies as a "world citizen," presented his argument of "no justification for war, ever," while admitting that his remarks could make his audiences uncomfortable, but asserted that they were words that need to be said and a conversation that needs to happen.
The Fairfax Student Peace Awards started in 2006 as one school, Herndon High School, and one sponsor, the Herndon Friends Meeting, but has grown to 19 sponsors and is now offered to every public high school in Fairfax County, as well as two private schools.
The goal of the program is to encourage young people to think more about peace "both as a means and as an end" and to recognize their achievements when they turn those peace-making thoughts into actions in their schools, their communities, and even around the world.
The program is open to area high school juniors and seniors. In October, each school is invited to choose either an individual or a group recipient with the guidelines that the students have worked "specifically for peace or to identify and resolve conflicts … demonstrating commitment to peace by engaging in activities that strive to end conflict … seeking to bridge language, ethnic, racial, religious, gender, sexual orientation, or class differences … and/or assist to resolve conflicts among students or members of the community who feel isolated or alienated."
THE WINNERS received certificates of achievement, a monetary gift and an additional $100 to be donated to any nonprofit organization of the student's choice that operates in a spirit that is in keeping with the Peace Awards and this year, an autographed copy of the book, "Sweet Fruits From The Bitter Tree" by Mark Andreas, stories of "creative and compassionate ways out of conflict."
Read more about the Peace Awards and the recipients at www.fairfax.studentpeaceawards.org.
Four local students from Centreville and Chantilly were honored as recipients of the 2019 Peace Awards.
Romina Soleimani from Mountain View High School started her peace work in her home country of Iran, where she worked with Youth Spiritual Empowerment, a global Bahá'í-inspired program which encourages youth to grow spiritually, develop a strong sense of purpose, and engage in meaningful social action. When forced to leave Iran because of her beliefs, she continued her peace work in Turkey, sometimes meeting in parks. She and her mother then moved to the U.S., having been granted asylum as religious refugees. Romina again became a leader in the Youth Spiritual Empowerment Program and hopes to continue her work while in college.
Deepika Joshi, a senior at Centreville High School, was born in Nepal and entered U.S. schools in the fifth grade. She is the founder and president of her school's chapter of STAR – Students Together Assisting Refugees. So far, she has recruited 35 members to help refugees overcome the hurdles which often cause them emotional, mental and physical distress. Together they fundraise for the UN Refugee Agency, collect clothing for refugees in Bosnia and Syria, and write letters of support and encouragement to Lebanese children.
"If I can inspire just one person," she said, "then that person may inspire another. At the end, this will allow us to forget what separates us and to focus on what binds us together."
Yahang "Annie" Wang, a senior at Chantilly High School, immigrated to the U.S. from China 10 years ago. She and her family faced discrimination due to the language barrier, but Annie says that her discovery of rap music helped her appreciate the beauty of the English language and helped her to express herself by writing lyrics. She performed one of her compositions at the Virginia Girls State Conference on female empowerment and the inequalities women face in society.
She has been on the FCPS Student Advisory Council for the past two years. "I have been able to advocate for fellow immigrants, inspire low-income families and help empower young women." She feels compelled as a first-generation immigrant to "give back to the community that's helped me thrive in my times of need."
Maxihikio (Makee) Neves, a Westfield High School junior, is a member of the Citizen Potawatomi Nation and a descendant from other tribes.
He came to Westfield a year ago, from a school in Colorado where he was one of several Native American students. He turned the experience of suddenly becoming a minority into an opportunity to learn, and to help others learn, as well. Organizing the Indigenous Student Union, he and others now prepare displays for Westfield Culture Night and other events.
Upcoming plans include a Q&A Student/Community evening about indigenous people, a coat drive for native youth in need, a field trip to the National Museum of the American Indian, and more.