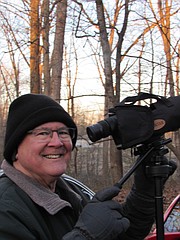 A bird walk in Reston on March 17, offered by Reston Association and organized by Audubon Society of Northern Virginia and The Bird Feeder provided participants the opportunity to further their knowledge and enjoyment of birding while also offering exercise and social connections. The activity also produced critical site-specific information needed for research, conservation and education on a global scale.
The free morning event took the nineteen registered participants along the edge of Lake Newport and the brushy woods around Brown's Chapel grounds. "While some hardcore birders travel near and far to compile long "life lists" of birds … others delight in just knowing the feathered friends around their homes and neighborhoods … Reston's bird checklist includes more than 180 species," said Katie Shaw, Nature Center manager before the event led by Linda Fuller of the Audubon Society.
"Fall, winter and early spring are the best times," said Carol Hadlock of The Bird Feeder as the walk began. Hadlock said the likelihood of a spotting a species depended on the season, time of day, location and weather. "Winter birds are leaving; early spring migrants are arriving," she said.
Hadlock explained that the Reston area is on a migratory route. "Birds tend to follow the coastline and the mountains, a highway from Central and South America and they fly through here. Some nest locally, some continue north toward New England and Canada. Then in the fall, we'll get the stream in reverse," Hadlock said.
Michael Piper of Reston was a casual birder at the event. As he walked along the path beside Lake Newport, he said, "I enjoy the nature around Reston and the opportunity to learn more about the birds in the area so I can spot them." Just then birder Jay Hadlock, who opted for a spotting telescope on a sturdy tripod, called out, "Red-shouldered Hawk."
"The walks are also a great way to become familiar with all the open space and natural resources available to Restonians," said birder John Farrell of Reston. According to Reston Association, Reston offers more than 1,300 acres of protected open space with four lakes, wetlands, 20 miles of streams, three ponds, 50 meadows and 700+ acres of forests.
After the walk, Carol Hadlock submitted sighting documentation to eBird, the world's largest biodiversity-related citizen science project. It is managed by Cornell University. The report read: "Lake Newport, Fairfax County, Virginia, US, Mar 17, 2019. Party size: 19, Duration: 2 hours 31 minutes; Distance: 2.54 miles; Species: 34 total; 2 adult Red-shouldered Hawks nest building."