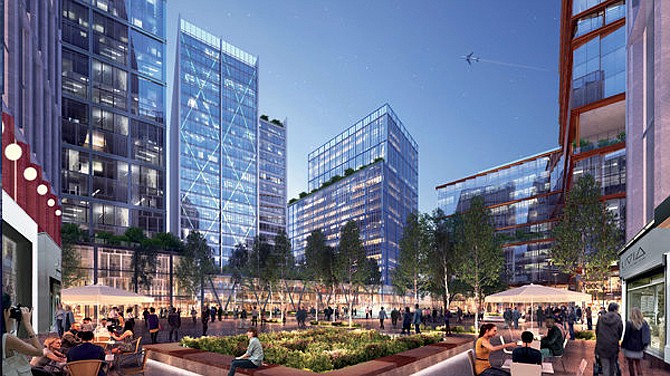 The County Board on March 16 approved the county's proposed direct financial incentive to Amazon, an annual pay-for-performance grant valued at approximately $23 million, tied to the company meeting targets of occupying 6 million square feet of office space over the next 15 years, according to an Arlington County press release.
The incentive will come from a percentage of the new incremental revenue generated by the county's Transient Occupancy Tax (TOT), which is a tax paid on hotel rooms or other paid lodging.
"This performance agreement is really just the beginning of what I believe will be a long and productive partnership between Arlington and Amazon," County Board Chair Christian Dorsey said. "This board, and senior county staff, have spent months in intense discussion with our community about what Amazon's arrival in Crystal City and Pentagon City will mean for Arlington. Our vote today reflects our strong belief that Amazon will bring significant benefits to our community, to neighboring Alexandria, the region and the state."
The board voted unanimously to approve the performance agreement with Amazon, after hearing from more than 100 speakers during an hours-long public hearing and questioning Amazon executives.
The county also committed to using a portion of new incremental revenue generated by Amazon's arrival within the existing Crystal City, Potomac Yard, Pentagon City Tax Increment Financing (TIF) area to make infrastructure investments in and around National Landing. The estimated new TIF revenue is projected to be $28 million over 10 years. TIF is a mechanism to support development and redevelopment by capturing the projected increase in property tax revenues in the area and investing those funds in improvements in that area.
The county and the City of Alexandria also have committed to investing up to $570 million in transportation projects, including rail connections, transit facilities, multi-modal streets and transportation technology serving Amazon's headquarters. All the projects were already included in long-term Capital Improvement Plans approved by the board and the city. Arlington and Alexandria are also pursuing additional funding opportunities to advance investments in this corridor.
As part of its incentive package, the Commonwealth of Virginia has proposed more than $1 billion for a Tech Talent Investment Fund. The fund is expected to produce 25,000 additional bachelor's and master's degrees throughout Virginia in computer and science related fields.
The Commonwealth also plans to provide new resources related to computer science education statewide, access that will be available to Arlington and Alexandria public schools. These new resources will include ongoing professional development for current and future teachers; summer and after-school programming for students, and career exposure and work-based learning opportunities in high-demand fields.
Arlington has partnered with neighboring Alexandria, which will be the home of a new $1 billion Virginia Tech Innovation Campus. The new campus will be designed to increase graduates in STEM- related degrees, providing a tech talent pipeline for technology companies in Northern Virginia and beyond. It will be funded with $250 million from the state's Tech Talent Investment Fund, a matching $250 million from Virginia Tech and another $500 million from the private sector, to build a planned mixed-use component on the site.
The Commonwealth will augment local investment in transportation projects by investing up to $195 million of non-general fund money in new or expanded transportation projects to improve mobility in the region. Planned investments include:
New entrance to the Crystal City Metro station;

South entrance off Potomac Avenue to the new Potomac Yard Metro station;

Improvements to U.S. Route 1 in Arlington County;

Pedestrian bridge from Crystal City to Reagan National Airport;

Transitway expansion supporting Pentagon City, Crystal City and Potomac Yard in both Alexandria and Arlington.
More funding for transportation will be available from the Commonwealth if Amazon creates more than 25,000 jobs.
Arlington and Alexandria plan to invest at least $150 million over the next decade in affordable housing, resulting in the creation and preservation of 2,000 to 2,400 affordable and workforce units in and around the Crystal City, Pentagon City and Columbia Pike areas and throughout Alexandria. Of that, Arlington plans to invest $7 million a year for 10 years, with the goal of creating 1,000 affordable housing units in and around the Amazon project area.
The Commonwealth of Virginia has also pledged to provide $15 million per year for five years, at least, to support housing affordability in areas impacted by Amazon.