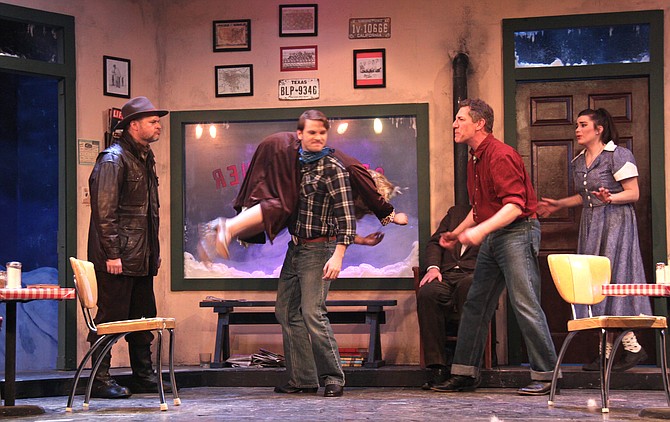 Aldersgate Church Community Theater (ACCT) will present "Bus Stop" from March 29 to April 14. The play is set in a roadside diner near Kansas City in 1955. A freak snowstorm has halted the progress of the bus, and the characters have a layover in the diner in the middle of the night when romantic relationships ensue. The play was made into the 1956 film starring Marilyn Monroe.
According to Director Eleanore Tapscott: "'Bus Stop' is a thoughtful and comic exploration about four types of love: young romantic love, loyal friendship, emotionless physical love, and deviant infatuation. In this play, we examine how people find and fail in love. A cross-section of people (town locals and visitors are trapped in a tiny rural diner during a raging snowstorm) are searching for meaning, searching for substance, searching for love…sometimes in some of the wrong places."
Added Producer Charles Dragonette: "Having pushed to have ACCT take on 'Bus Stop' and then having heard Eleanore Tapscott's vision for the play, I could not turn down the chance to be more fully involved in bringing this mid-century American story to life. As a producer (and stage manager) I have had the continuing excitement of watching this show develop and to see how each of its interwoven stories resolve with warmth and heart."
Drew Cannady is playing the role of Will Masters, the local sheriff. "He is a devout Christian but isn't judgmental, as shown by his gentle ribbing of Carl and Elma for their, um, dalliance. He takes his job seriously and stands up for those who need help, but he also strongly believes in fairness and forgiveness," he said. "Will is a pillar of his community, and I think he is the most settled (and perhaps happiest) of all the characters in Bus Stop," he said.
Elizabeth Replogle plays the role of Grace who owns the diner where the travelers are stranded. "She is technically still married, but her husband has been out of the picture for quite a while, and she's okay with that," she said.
She added: "Grace is really a character ahead of her time. Today, we don't think twice (at least I hope we don't) about an independent woman running her own business, and being unapologetic about the way she lives her life. But it would have been a huge struggle for a woman to assert herself that way 50 years ago without being portrayed as an object of pity or sympathy, which Grace definitely does not want. I try to keep her backstory in mind when I am playing her."
Emily Golden plays the role of Cherie, a nightclub singer in Kansas City. "Bo has forcefully put her on the bus with the intention of taking her to Montana and marrying her. Although she is attracted to Bo, she feels conflicted because of his rough approach. During the course of the show, we learn more about Cherie's past, as well as her hopes for the future," she said.
Joel Durgavich is playing the role of Virgil Blessing, a father figure for Bo. "Bo's parents died when he was 10 and Virgil has been raising him since then. Virgil himself is unmarried and does his best to keep Bo on the straight and narrow," he said.
He added: "I was initially playing the character of Virgil Blessing as too passive. I had to balance being stern with Bo when he is being unruly and being more compassionate to him when I am trying to teach him how to respect authority and Cherie."
John Paul Odle is playing the role of Bo Decker, a young buck untested outside of his Montana ranch. "His sheltered life is informed by what he reads, and what he watches on his 24-inch color television. Having inherited his parents' ranch at 21, the power has gone slightly to his head. On his first rodeo tour outside of Montana, Bo feels the urgent need to find himself a wife, and is enraptured by Cherie, a singer at a nightclub he frequented every night after the rodeo. With little experience towards women, he acts outwardly in a brash, abusive way, although his inward reasoning is much more authentic and genuine. Bo is head over heels in love with Cherie, and will stop at nothing to marry her," he said.
Madeline Byrd is playing the role of Elma Duckworth, the young and innocent waitress who works at Grace's Diner. "She is very intellectual, but a bit naive in the ways of love. She eagerly creates connections with strangers without any judgement or preconceived notions. She has an idealistic worldview that expands beyond the confines of Grace's Diner in rural Kansas," she said.
Richard Isaacs is playing the role of Carl, the bus driver, who he describes as "a good old boy who goes through the motions…he was, is, and always will be a bus driver. And he's happy with that."
He added: "It was a different world in 1955 when the play came out, but I believe that the 50-plus-years-old humor in this show stands the test of time, so I'm hoping that the audience leaves with a smile on their face."
Tom Solman is playing the role of Dr. Gerald Lyman, a candid, highly educated yet dysfunctional character. "Married and divorced three times, he could never trust himself or others around him to find lasting love and true meaning. He will not be controlled by anyone or anything. He is on a mission to be 'free' by traveling the country on a bus, both running away from pain and through pain via alcohol, young women, humor and intellect. He never escapes," he said.
Aldersgate Church Community Theater will present "Bus Stop" from March 29 to April 14. Show times are Fridays and Saturdays at 8 p.m.; and Sunday matinees at 2 p.m. Tickets are $15 general admission; $12 for students and seniors; and $10 for groups. The venue is located at 1301 Collingwood Road, Alexandria. Visit http://acctonline.org.