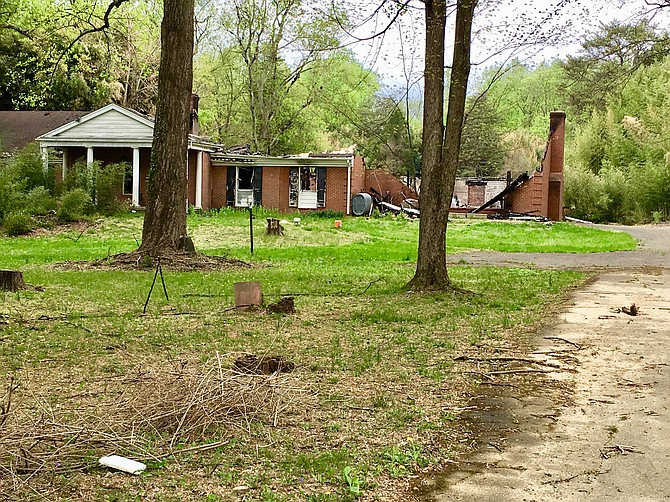 President's Letter: State Matters
By Ginny Barnes
As a civic organization, our work is mostly at the local level. We frequently interact with the County Council, Planning Board, the Board of Appeals, and the Hearing Examiners. With a new County Executive interested in furthering an environmental agenda, we are grateful to be part of meetings with Marc Elrich. Though we interact less frequently with our State Legislators, we know our delegation is busy in Annapolis working to meet the legislative needs of Maryland citizens. This session we supported several forest related bills, two of which passed and await the signature of Governor Hogan. HB 120 / SB 203 was intended to properly define 'forests' but died in committee. HB 735 / SB 729 passed and will create a Forest Task Force to address future deforestation and recommend forest improvements. HB 272 / SB 234 also passed and requires local governments to meet the same standards as a developer's reforestation responsibilities. This bill would ensure that the same amount of forest is replanted regardless of who is responsible.

Several other important environmental bills passed as well: the ban on polystyrene foam containers and a Clean Energy Jobs Act that will require utilities to buy a certain amount of energy each year from renewable sources. Sponsored by Sen. Feldman in his new role as Vice Chair of the Senate Finance Committee, the Clean Energy Bill fights climate change by mandating that Maryland utilities get 50% of their power from renewable energy sources by 2030. It will target solar and offshore wind sources and is projected to create an estimated 20,000 new solar jobs and 5,500 new wind jobs in Maryland. In addition to helping catalyze Maryland's clean energy industry, this bill will hopefully help to safeguard the diverse ecosystems of Maryland and show our State's leadership on a global environmental issue.
Legislators also passed bills on health care, prescription drugs, the $15 minimum wage, and education. Our Senator and Delegates always impart enthusiasm for their work, giving us both an overview as well detailed outcomes and glimpses inside the governing process. Please plan to attend.
Green Montgomery Coalition Watts Branch Tour for County Executive Marc Elrich
Submitted by Ken Bawer
WSSC had a proposal (now on hold) to spend approximately $75M to move their River Road Filtration Plant's intake pipe from the side to the middle of the Potomac River (known as the proposed mid-river intake). WSSC's stated reason was to avoid silt coming primarily from the Watts Branch. Rather than spend this huge amount of money for an arguably temporary fix, an alternative solution would be to fix the problem at its source – stormwater runoff within the Watts Branch watershed. Just as the Ag Reserve is held up as a national model for protecting agricultural land, a total Watts Branch Watershed remediation project could also be a national model for the retroactive protection of a drinking water watershed in a developed area.
The tour will provide a view of a small portion of the Watts Branch Watershed to show examples of sources of uncontrolled stormwater runoff across jurisdictions (City of Rockville and Montgomery County) and from various types of properties (e.g., Montgomery County Public Schools and Parks, private clubs, public roads, townhouse developments, and single-family lots). Many of these examples will illustrate the need for breaking down departmental silos, i.e., the need for coordination between departments such as DOT, DEP, Montgomery Parks, etc. We hope to have follow-on meetings to discuss next steps and best practices.
House Destroyed by Fire Now Appears Abandoned on Chapel Road

Submitted by Barbara Hoover
In March WMCCA was approached by concerned neighbors about a derelict burned down house at 10100 Chapel Rd. In case any of you missed this, it was a spectacular fire at night on Feb 1st and 60 firefighters fought it. http://www.fox5dc.com/news/local-news/massive-overnight-fire-leaves-home-badly-damaged-in-potomac
The neighbors had been concerned about this house for a while before the fire, as the owners had moved out and the house was deserted and the grounds unkempt. Now, the shell of the home is an unsightly nuisance and a hazard for any kids likely to examine the property (kids will be kids!). Apparently the owner has moved back to her foreign home, and attempts to contact the son were not fruitful.
WMCCA has been in contact with a Montgomery County Inspector about this property. There is a long process to have a property condemned and hazards removed – especially when they have not been able to communicate with the owner. According to the MoCo Housing Code Enforcement Handbook (page 8):
Any dwelling, dwelling unit, or non-residential building may be condemned as unfit for human habitation or unsafe for human occupancy [for a number of conditions]. If any of these conditions are found, the Housing Code Inspector notifies the owner of the condemned property and posts a condemnation sign on the property. This sign must not be removed until the Housing Code Inspector authorizes its removal… The owner of the property must keep all doors and windows secure from unauthorized entry…
When a property is condemned, the owner must repair or remove the condemned structure within the time period specified by the Inspector. If the owner does not comply with the Inspector's order, a civil citation will be issued to the property owners which begins the legal process in the District Court of Maryland (see Step 4 on page 13). The Department of Housing & Community Affairs will pursue every legal option available to enforce the requirement that the owner repair or remove the structure.
BELTWAY, I-270 EXPANSION PROPOSED
If you are interested in learning more about the proposed Beltway and I-270 expansion, please visit Citizens Against Beltway Expansion (https://www.cabe495.com/). The following website provides upcoming public meetings/workshops where you can voice your opinion: https://docs.wixstatic.com/ugd/ecd536_d01c42834a0248ad909afb5ca628e033.pdf
ELECTION OF WMCCA OFFICERS AND BOARD:
The Nominating Committee proposes the following slate of Officers and Directors to the membership for a vote at our May 8 meeting. Nominations may also be made from the floor.
President: SUSANNE LEE
Treasurer: BARBARA HOOVER
Immediate past President: GINNY BARNES
Secretary: JILL PHILLIPS
President Elect: KEN BAWER
Newsletter: NANCY MADDEN
Vice President: CAROL VAN DAM FALK
Nominees for a two-year term: GEORGE BARNES, BARBARA BROWN, BRODY LOGHMAN, LEROY MILLER, KATHY PETITT