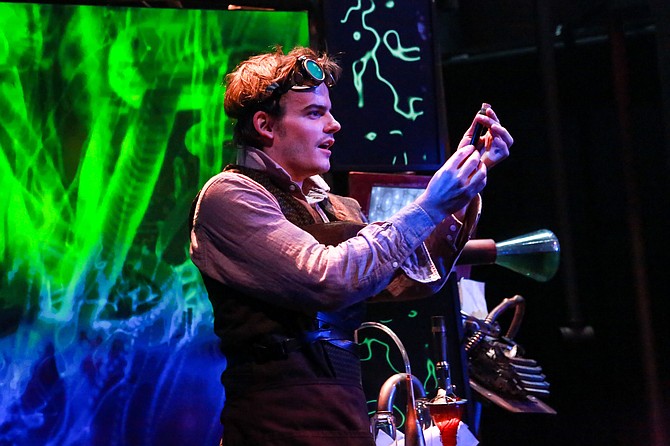 Synetic Theater's theatrical athletes will present a modern, cyber-punk adaptation of Shakespeare's classic, "Richard III," from now through June 16. As physical and cyber worlds become more entwined — lives becoming more automated and impersonal — do people lose connection and empathy? What happens when technology obscures one's own humanity?
Highlighting the extremes made possible through the abuse of modern technology, the 14th installment in Director Paata Tsikurishvili's Shakespeare Series explores King Richard III's Machiavellian rise to power in an action-packed display of physicality and powerful visuals. The choreography is by his wife, Irina Tsikurishvili.
Director Tsikurishvili said he decided to produce the show because it's been on "the list" for quite a while now. "Richard is one of the great Supervillains of all time. He's got everything: Power, charisma, wickedness, charm — you name it. There's also an amazing physicality to the character, one which has been interpreted in so many ways, and we wanted to finally put our own spin on that," he said.

He said he was hoping to explore what happens when someone is completely taken over and controlled by unfeeling and inhuman technology. "We're all so dependent on it nowadays, so what happens when it totally and literally runs our lives? In our production, Richard's famous physical deformity is not a natural one, but a synthetic one — a complete physical reconstruction after being wounded in the Civil War which opens the play; so we wanted to pose the question of what a near-complete replacement of the organic with the synthetic can do to someone's psyche," he said.
He said the challenges were: "To combine the live-action elements of the production with the multimedia aspects. Here, Richard maintains his puppet master control of people and events and manipulates them through surveillance. So, to synch everything — actors, music, sound, lights — with that video element, which we're using in this production to an unprecedented degree, was a huge challenge," he said.
As far as the audience takeaways, he said: "That the overriding ambition for power and control exists in every era, every age — past, present, and future — and that the only thing that changes, or will ever change about that, are the tools and the methods to acquire it. Nowadays, in our dependence on technology, we're watched and tracked every second of our lives, and I want the audience to see, or to at least ask the question of what can that lead to," he said.

Alex Mills, who plays the title role of Richard III, said he's emotionally stunted and "also a gifted craftsman of manipulation — whether it be in your face or behind the scenes (or whether he even knows his brilliance or is just mad)," he said.
He found the character itself challenging, he said. "He's not easy to play because there is not some box you can put him in. Something I've grappled with, and our director as well, has been trying to find the humanity within the story; and is there any? It's so easy to play a trope or an evil Shakespearean villain when such heinous acts take place. But, is there an ounce of something we can squeeze out, to have the audience understand why this person enacted his eventual plan," he said.
As far as audience takeaways, he said if he were to pick two large buzz words, they would be "Power" and "Technology." He added: "It feels like today there are so many moving parts both politically and technologically that, as a people, it's getting a bit too fast. I think being aware of that speed and recognizing it and allowing ourselves to slow down for a second is not selfish or behind the times but crucial."
Synetic Theater is presenting "Richard III" from now through June 16. Show times are Wednesdays at 7 p.m.; Thursdays through Saturdays at 8 p.m.; and Sundays at 2 p.m. Tickets are $24 to $65. The venue is located at 1800 S. Bell Street, Arlington. Call the Box Office at 866-811-4111 or visit www.synetictheater.org.