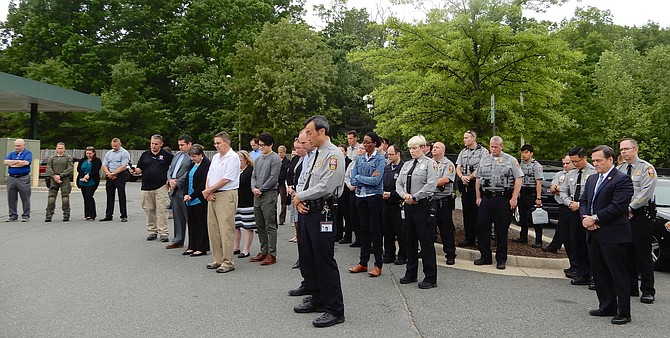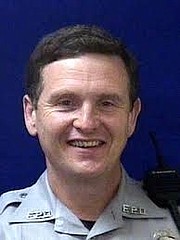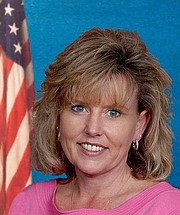 May 8, 2006 is a date etched into the very being of Fairfax County police officers – especially those with ties to the Sully District Station. It was on that day when Det. Vicky Armel and MPO Mike "Gabby" Garbarino were fatally shot in the parking lot of the Sully District Police Station.
And every May 8 since then, a special remembrance ceremony is held for them at the station. This year's event, the 13th, was held in that same lot and began with an invocation by Chaplain Jim Hepler.
"Today we gather to honor Mike Garbarino and Vicky Armel and assure their families of our continuous support," said Hepler. "Our sorrow remains great because our grief was. But, rest assured, we haven't forgotten their families, and we pray for their strength and resolve."
"We rejoice in the time we had with Mike and Vicky, and we're confident that God is with us in our sorrow. We hold their deaths deep in our hearts. And we pray that God will bring a deep peace to us all and to each member of law enforcement who continues the good fight, each and every day. May God bless you."
ON THE DAY OF THE TRAGEDY, 18-year-old Michael Kennedy carjacked a van around 3:40 p.m. Responding to the call, Armel went outside to the police station's rear lot. But as she reached her cruiser, Kennedy – armed with five handguns, an assault weapon and a high-powered rifle – drove into that lot.
There, an unarmed Garbarino was tending to things inside his cruiser before leaving on vacation. Standing just a few yards away, Kennedy ambushed him, firing more than 20 rounds at the officer with an AK-47-type rifle.
When the shooting began, Armel, a 17-year police veteran, made her presence known to Kennedy to draw fire away from Garbarino. She and Kennedy exchanged gunfire, and a bullet from his 30-06 rifle pierced her ballistic vest and entered her chest.
She made it back inside her cruiser, but was shot again in the legs. Yet even though mortally wounded, Armel still fired four more rounds, trying to stop the assailant. She was later pronounced dead at Inova Fairfax Hospital.
Garbarino also displayed bravery under fire that day. Although he'd been shot five times and was gravely wounded and in pain, the 23-year police veteran used his cruiser's radio to alert other officers to the danger. He provided suspect information, told the police helicopter where to land and warned other officers to approach from the front of the building so they wouldn't walk straight into harm's way.
He also prayed to God and told his fellow officers, "I'm not going to die here." He didn't; but after nine days in the hospital, he ultimately succumbed to his injuries on May 17, 2006. As for Kennedy, he was killed the day of the offense in a shootout with other responding officers; police said he'd fired more than 70 rounds.
Both Garbarino and Armel left spouses, two children each, crushed colleagues and a community in mourning. A year later, the Fairfax County Police Department awarded the officers Gold Medals of Valor, posthumously.
Attendees at last week's remembrance ceremony in their honor included Deputy County Executive (and former county police chief) Dave Rohrer, county Police Chief Ed Roessler, family members of Armel and Garbarino and former and current Sully District Supervisors, Michael Frey and Kathy Smith, respectively, as well as former and current Sully police officers.
"Family does not forget," said Lt. Todd Billeb, the station's assistant commander. He also stressed that "Mike and Vicky were heroes because of the way they lived." Then came a moment of silence for them, followed by members of the Garbarino and Armel families placing flowers on the memorials erected on the former parking spaces of each officer.
Armel's former police partner, Mike Motafches, now retired, came from out-of-state for the ceremony. Recalling that fateful day, he said, "Everyone here is thinking that it could have happened to any one of us at the station. As time goes by, the pain does ease, but the memories don't go away. But I'm confident I'll see Vicky and Mike again in the future, in heaven."
Garbarino's widow Sue was there, along with daughter Natalie and daughter Katie Mannix, now married. "My dad always said, 'If anything ever happens to me, you'll be well taken care of,' and that wasn't a lie," said Mannix. "This event is healing for us, for the police and for everybody."
Armel's sisters, Betty Chase and Sandy Munday; her 89-year-old mother, Betty Owen; her daughter, Masen; her niece, Taylor; and other relatives also attended. "It's nice that they still remember Vicky," said Munday. "They say, 'Gone, but not forgotten,' and the Police Department's Peer Support checks on us throughout the year," said Munday. "They give us a Christmas wreath – and, this past Christmas, they brought us ornaments, too."
She said Peer Support also provides transportation to the annual, national Police Week functions. "We're very fortunate to have Fairfax County for support; not everyone is so lucky. We never would have survived this without them."
ARMEL'S DAUGHTER, Masen, now 18, was just 5 when her mother died; and she, too, was touched by the ceremony. "I like being able to see everyone she knew," said Masen. "And it's nice to know that they care that much – it's comforting."
Her dad, also in law enforcement, is a sheriff with the Culpeper Sheriff's Office. And despite what happened to her mom, Masen – about to graduate from high school in June – plans to major in Criminal Justice at JMU and "then come to the Fairfax County Police Department, like my mother. My brother Thomas, who's almost 20, also plans to join the Department. We both wanted to help people, so our dad knew we'd eventually wind up here. And I think my mother would be proud."