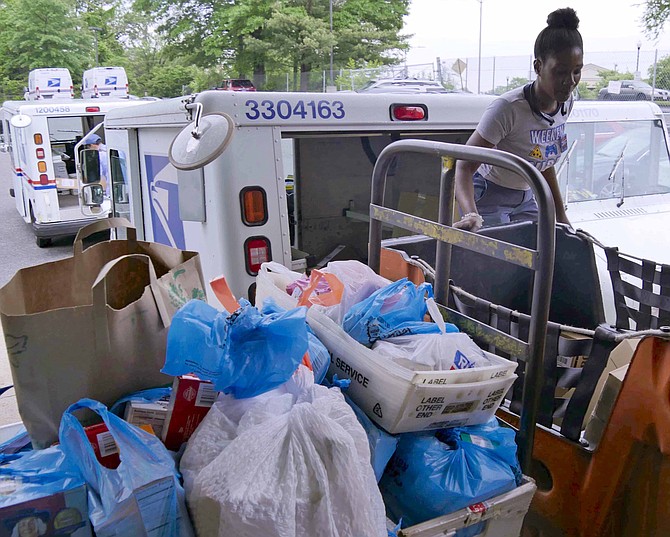 Truck number 3304163 pulls up at the Arlington Post Office North Station on George Mason Drive on Saturday, May 11. "I got some food to unload." Boxes of macaroni and cheese, cases of tomatoes and green beans and a box of Lucky Charms fill blue bags emblazoned with "Stamp out Hunger."
Arlington is participating in a nation-wide food drive sponsored every year by the National Association of Letter Carriers (NALC) with the goal to raise awareness of hunger. NALC is partnering with Arlington Food Assistance Center (AFAC), which hopes to collect 30,000 pounds of healthy, non-perishable food items from Arlington residents.
It is 3:30 p.m. and only five of 34 postal trucks have returned to the post office with their donations of food. Local letter carriers have collected non-perishable food on their regular postal routes. If the trucks can't accommodate the food with all of the regular mail, the drivers say they can call the post office for some assistance. It often takes 2-3 hours longer than a normal route to pick up the donated food so the rush of returning trucks is expected in a couple more hours.
Stephanie Ellis has just returned from Route 742 off Lee Highway and George Mason. She says she has been picking up food in this national food drive for 25 years. "It's my favorite time of the year."
Volunteers from AFAC are loading a large semi truck from bins overflowing with food unloaded from the first five postal service trucks. AFAC will drive the food back to the AFAC headquarters warehouse to be unloaded, sorted by volunteers and then they will return to the post office for another load.
Ellis says, "I'll help unload. Cookies are part of the deal, right?"
AFAC serves 2,300 families in Arlington every week at 19 distribution sites. These donations will keep AFAC's shelves stocked for months. For more information, see www.afac.org/stamp-out-hunger.