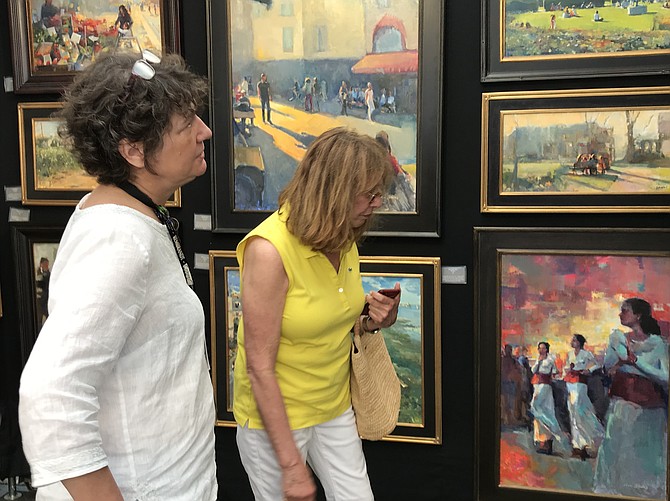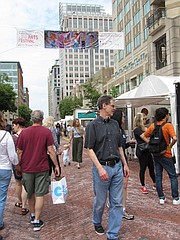 Greater Reston Arts Center (GRACE) held its acclaimed free-to-the-public, 28th annual Northern Virginia Fine Arts Festival last weekend. The event featured more than 200 juried artists and offered "high-quality hand-crafted, one-of-a-kind artwork in the dynamic outdoor setting" at Reston Town Center according to GRACE. The Festival once again attracted an estimated crowd of 30,000.

Organizers expanded this year's Festival experience. "Festival Friday" returned for its second season. Executive Director and Curator Lily Siegel explained the Friday event focused on the Reston workforce and offered exclusive retailer deals, games and activities. The Festival Party on Saturday night shined a light on artists with the announcement of the 2019 Awards of Excellence as selected by jurors and presented by The M Group Architects of Reston. The Family Art Park featured hands-on art activities and storytelling.
Heidi Latsky Dance from New York presented three performances of ON DISPLAY/RESTON, one Friday evening during the Festival Party and two on Sunday at Reston Town Square. Partner Reston Community Center supported the movement installation described as "a deconstructed art exhibit/fashion show — a commentary on the body as a spectacle and society's obsession with body image." The show was presented in partnership with Shu Chen Cuff of the Gin Dance Company and Suzanne Richard of Open Circle Theatre.
Funds raised from the Festival will help support GRACE, a nonprofit organization, in providing Virginia, Maryland and District of Columbia's diverse communities with opportunities to experience and explore contemporary art. To learn more about GRACE, its exhibitions, educational programs, donation opportunities and plans for next year's Festival, visit restonarts.org.