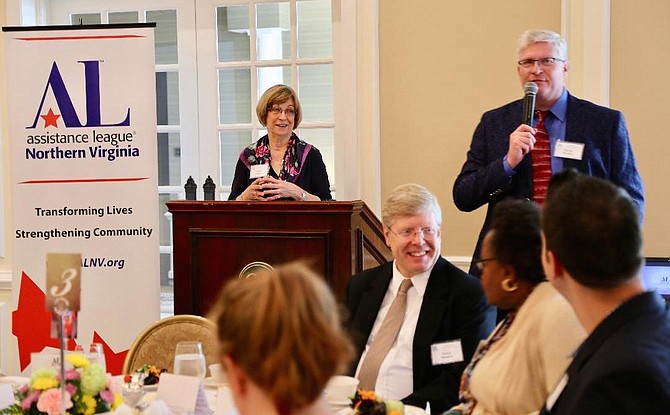 Assistance League® of Northern Virginia, an all-volunteer nonprofit organization, held its annual Spring Fundraiser on April 26 at the Country Club of Fairfax to raise funds for its programs that serve the needs of low-income children in 11 Title I elementary schools in Fairfax and Prince William Counties and the City of Alexandria. During the pre-luncheon reception, the 145 guests in attendance had an opportunity to bid on an array of silent auction items donated by local businesses.

Kathryn Jackson, president of the Northern Virginia chapter of Assistance League, emceed the event and described the positive impact the organization's ongoing programs, including Weekend Food for Kids, New Clothing for Kids, Literacy for Kids and Hugs Pillows, have in the community. Attendees were treated to a slide show that provided a visual portrayal of the nonprofit's programs and activities.
During the current school year, Weekend Food for Kids will deliver 18,000 bags of nonperishable food items to students at risk of hunger to take home on weekends when school meals are not available. The New Clothing for Kids initiative provides essential clothing items, and personal grooming products to improve the well-being of students, and layettes to help new mothers in need. Literacy for Kids delivers individualized tutoring to first graders and supplies books to support summer school reading programs, in addition to providing books to allow individual students to build their home libraries. Hugs Pillows distributes hand-made pillows to comfort children undergoing treatment at a local clinic.
Key sponsors of the charity luncheon were recognized for their support: Quadrant, Inc., Panda Stonewall, Bob's Discount Furniture Charitable Foundation, Marines Plumbing, and Spine Care of Manassas Chiropractic Center. Several partners that have provided support for the organization's food program, including Dominion Energy, Allstate, Intelsat and Sandy Spring Bank, also received praise. A special thank-you was extended to principals and other representatives from the schools served.
For the ninth year, Auctioneer Daniel Sanders, with Four Sales Ltd., donated his services to help raise funds during the live auction and special appeal segment of the program. Two luxury South African Photo Safari packages were just some of the items available for bid this year.
Christopher Baity, a veteran Marine Corps dog trainer and Founder and Executive Director of Semper K9 Assistance Dogs, delivered the keynote address.
For further information, visit: www.alnv.org.