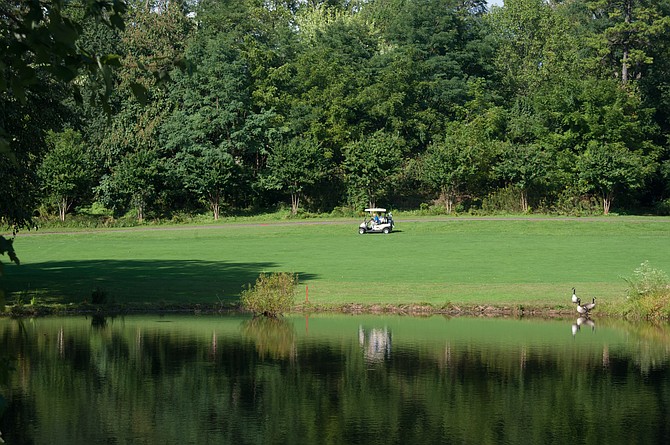 Baltimore developer Weller Development Co. announced it, and War Horse Cities recently closed on, the purchase of Reston National Golf Course from property owners Billy Casper Golf and Northwestern Mutual Life Insurance.
Marc Weller, founding partner of Weller Development Company, stated, "Weller Development Company, in partnership with War Horse Cities, has closed on the purchase of Reston National Golf Course from the property's owners, Billy Casper Golf and Northwestern Mutual. Billy Casper Golf has been retained to continue managing the golf course with no set plans for the property beyond that at this time. Both Weller Development and War Horse are focused on building relationships and working with the communities we serve, and we look forward to being part of the Reston community for years to come."
According to Lynn Mulston of Rescue Reston, a grassroots organization that works to defend Reston's recreational green space at Reston's two golf courses, the 164-acre North Course, Hidden Creek Country Club, and at the South Course, Reston National Golf Course, a 166-acre certified Audubon Cooperative Sanctuary program golf course in the Chesapeake Bay watershed, "the land use designation of both properties is private recreation use, more specifically to remain as golf courses."
THE PURCHASED GOLF COURSE is located at 11875 Sunrise Valley Drive, Reston, a short distance to the Wiehle-Reston East Station on the Silver Line extension and the nearly complete Reston Town Center Station located west of Reston Parkway.
The property has been the subject of controversial debate for seven years. In 2012, RN Golf Management, LLC (RN Golf), a subsidiary of Northwestern Mutual Life Insurance, asked Fairfax County whether the land could be considered residential. Fairfax County Department of Planning and Zoning Staff said no; it would require rezoning. Resulting actions and appeals by the owners and advocacy groups against redevelopment caused years of contention.

RN Golf appealed decisions to Fairfax County Board of Planning and Zoning, Circuit Court of Fairfax County and ultimately the Supreme Court of Virginia. In 2016, Scott D. Helsel who represented RN Golf, LLC, stated in a letter to Patricia Harrington, Clerk of Supreme Court of Virginia: "RN Golf has decided not to continue with its appeals in these cases."

The golf course went on the market in 2017 by the McLean-based office of ARA. According to a statement in VirginiaBusiness.com by executive managing director land services for ARA, Mark Anstine, the Reston National Golf Course would be sold "as is, or for future development by the purchaser."
CURRENTLY, the new owners must seek a zoning amendment to redevelop the golf course. The sales price of the recently acquired property is not reflected in Fairfax County online property records yet.
Spokesperson Danielle Bennings, Director, Strategic Communications Weller Development, stated that the company would apprise of any updates in the future. She added: "I have no further details to share at this time."
Reston Association stated it had no comment at the time to the news of the Reston National Golf Course sale.
Rescue Reston replied with a press release, part of it addressed to the new owners, "You bought a golf course, and you own a golf course. Period."