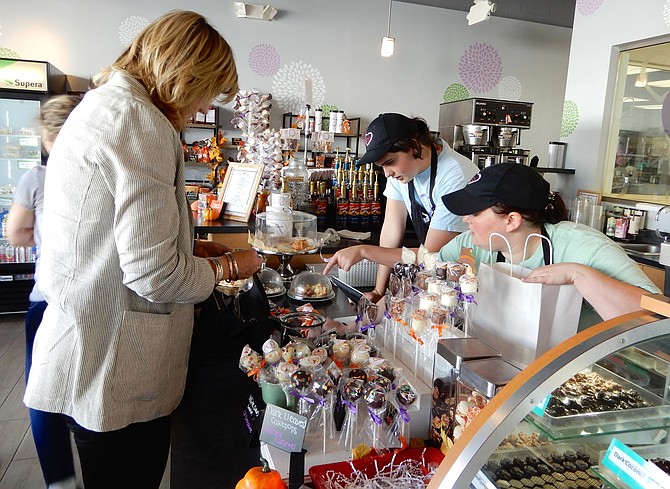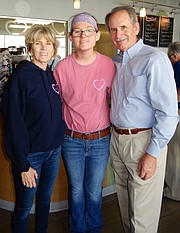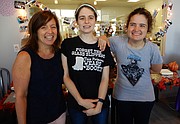 With games, music, laughter and free samples galore, Cameron's Coffee and Chocolates celebrated its sixth anniversary in style. It held a party for the public, Oct. 4, at its store in Fairfax Circle.
Owners Ellen and Jim Graham began the nonprofit, Every 1 Can Work – operating as Cameron's Coffee and Chocolates – to provide employment for young adults with developmental and intellectual disabilities, including their own daughter, Cameron, now 29, after whom the popular store is named.
CAMERON'S is open for breakfast, lunch, coffee and chocolate. And the employees prepare and bake cookies and muffins, as well as hand-dip a wide variety of chocolate treats.
"Our workers have meaningful employment and make products that can compete with everyone's," said Ellen Graham. "We only use the best Callebaut Belgian chocolate and bake fresh from scratch every day." Other offerings include homemade quiche, jams, granola, seasoned nuts, biscotti and even dog bones. And catering is available via www.Every1CanWork.com.
"It's a Fairfax gem; we've been coming here since it opened," said City resident Nate Verwys. "We've ordered big trays of personalized cookies for parties, and my wife comes here for coffee and to meet with people. We just love Cameron's, and the people here are so sweet."
Madeline Porth, 23, is one of the employees, and her mom, Tricia Porth, has nothing but praise for Cameron's. "My daughter is autistic and has been here over a year," said Porth. "She helps make the food, works at the counter selling and dips chocolate. But everybody also cleans the floors and does whatever's needed. Madeline gets off the bus at home, every day, and says she has the most awesome job in the world."
Added Madeline, "I couldn't ask for anything better."
"When she graduated, we wondered what was next for her," said Porth. "But here, she has 30 hours/week of work with all her friends, being productive, and in a loving environment. And I love that they're still working on skills here, both workwise and life skills, such as how to get along with others and safety skills crossing the road."
ALSO AT THE CELEBRATION were Melissa Grasis and Denise Sequeira with Fairfax County's Community Services Board. They work with the Self-Directed Services section that provides funding for families to help pay for their child's training at entities such as Cameron's.
"Cameron's has a great program," said Grasis. "This business allows people to work doing something they love."
"And they use superior, quality products," said Sequeira. "I love their teas, especially the green iced tea."
Saying how much they enjoy Cameron's food, Grasis noted that it just catered their work event. "I really like their milk-chocolate toffees and turtle candies," she said. "And I buy dog cookies for my puppies here."
"I just love the people here, and the customer service is exceptional," added Sequeira. "It's my favorite coffee shop and just a delightful place, and I'm glad to celebrate their anniversary with them."
Fairfax's Catherine Read is also a big fan. "I think, if more people understood this business model, they'd realize how this could be replicated in other businesses," she said. "It's a thriving business in Fairfax City that employs 20 people with disabilities in an environment where they can be successful – and that's key.
"These kids have been mainstreamed in public school, and they expect the same things their classmates have," she continued. "Cameron's has really made an impact on so many lives and given these employees a place to go every day where their lives have purpose and they can be proud of themselves."
Meanwhile, pleased with the large number of people who turned out for the anniversary festivities, Ellen Graham said, "We're delighted to be celebrating six years; so many small businesses don't make it that long. The Fairfax City community has been wonderfully supportive of both our store and our mission. We also want to say thank you to our customers for six years of support – and don't forget to give us your holiday orders."