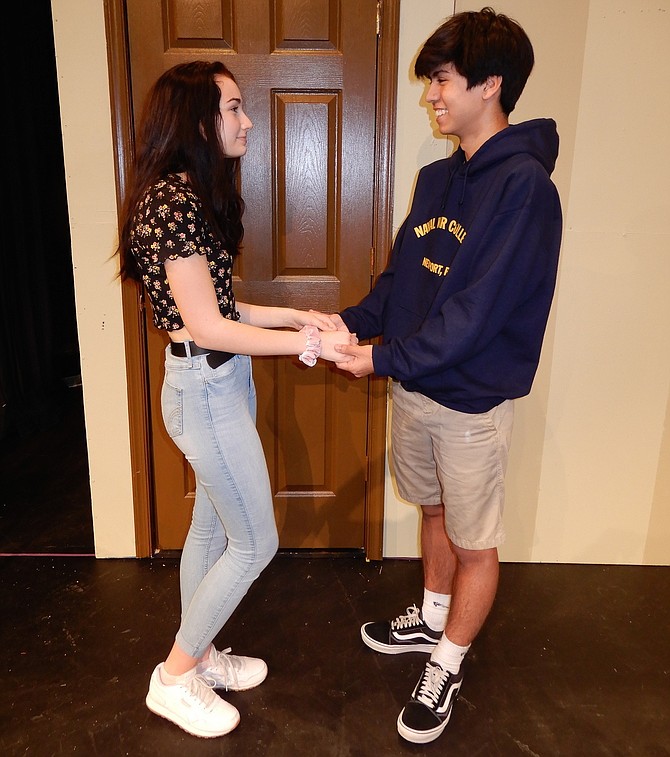 First a Broadway show and then a movie starring Jimmy Stewart, "You Can't Take It with You" is one of the most-produced plays in American high-school theater. It will also soon take the stage at Centreville High.
The curtain rises Friday, Nov. 15, at 7:30 p.m.; Saturday, Nov. 16, at 3 and 7:30 p.m.; and Sunday, Nov. 17, at 3 p.m. Tickets are $10 at the door or via www.theatrecentreville.com.
The story takes place in 1930s New York City. "It's about a bizarre family, the Vanderhofs and Sycamores, that definitely dances to its own tune," said Director Mike Hudson. "The mother, Penny Sycamore, writes plays as a hobby, and the dad manufactures fireworks in the basement. And the family collects misfits who appear to live with them, so they're rubbing elbows with a Russian grand duchess and various members of high society."
"One daughter plans to be a ballerina, but has no talent," continued Hudson. "And another daughter falls in love with Tony Kirby Jr., the son of a Wall Street giant – with hilarity ensuing when his parents show up for dinner on the wrong night."
FEATURING A CAST AND CREW OF 25, this play is suitable for all ages. The set will be the interior of the Vanderhoffs's house, and the actors will wear period dress of the 1930s. Looking forward to opening night, Hudson says the audience will have a great time watching this show.
"We have a lot of fresh talent coming up, plus juniors coming into their own, this year," he said. "The family is so dysfunctional – but in such a pleasant, goodhearted sort of way – that the audience will thoroughly enjoy laughing at their antics."
Junior Danny Villalobos portrays Tony's dad, Anthony Kirby. "He's a straightforward businessman, always thinking about business," said Villalobos. "He also cares about his family, but in his own way. He's the head of the house, and his family has to listen to him. He's prideful and subtly bigheaded, as well as very focused and determined, and he perseveres through any obstacles in his way."
Villalobos said it's interesting playing Kirby because "He's about 45 and a company CEO, and I'm 17, so I have to make him believable. I also show the social mannerisms of that time through the way he speaks and interacts with others, especially women. He's polite, but just for his image. He's engaging to play, and this role lets me test and push my acting range. It's nice to be challenged and do the part justice."
Villalobos said attendees will appreciate the play's message of family and love conquering all. "Despite where you come from and who you are, it's your family – and that's what's important," he explained. "And the performances will live up to or exceed expectations. People will especially like Jules Hoffman – a girl playing a Russian man named Kollenkov – because her character is a contrast to everyone else in the show. Kollenkov is funny without knowing it."
Playing Grandpa Vanderhof is sophomore Joseph Buono. "He's very happy and is the heart of the family and the glue that holds it together," said Buono. "He retired 35 years ago and is serious, but also friendly. He's also eccentric, plus protective over his daughter Penny, who's married to Paul Sycamore. And their daughter Alice is the one bringing her boyfriend Tony and his parents over to meet her family. "
Calling it a fun part to play, Buono said Grandpa "has so many lines that I can really portray his depth of character. He's funny and relaxed, and it's one of the biggest roles in this show." As for the audience, Buono said people will like the play because "It's so funny – kind of like an '80s sitcom – about a big family and their relationships. And there are lots of things to pay attention to onstage, at the same time."
SPEAKING OF FAMILIES, Buono's real-life sister, Lydia, a junior, portrays Penny Sycamore. "She's not the typical, 1930s housewife, cooking and cleaning," said Lydia. "She just writes plays all day, and her life constantly revolves around whatever hobby she's into at the moment. She's a warm, welcoming woman, but isn't afraid to speak her mind. She adores Tony, who becomes Alice's fiancé, and is also pleased that he's a company vice president, because she knows her daughter will be taken care of."
"I love this role because Penny has so many different sides and so much to her character," continued Lydia. "And it's fun to play such a bubbly, comedic person. They're a crazy, unique family. But at the end of the day, they really love each other, and that love shows in how connected they are. I think the audience will really enjoy going on their journey with them and seeing how the story unfolds."
Junior Ysanne Sterling is the assistant director, guiding the actors "to make sure they do what needs to be done. I work with them individually on their characters and how they fit into the play as a whole. I have to know the show like the back of my hand so I can immediately fix anything wrong."
Overall, she said, "I have a big family that's also crazy like this one, and this is a funny, upbeat show. Everyone in the audience will appreciate how each member loves and supports each other, no matter what. And they're just lovable characters, despite the fact that they're so frickin' crazy."