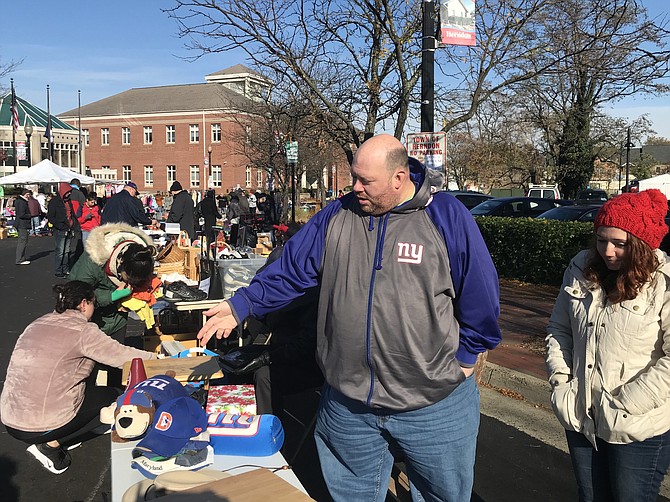 One person's clutter proved to be another's treasure at the Town of Herndon's first-ever Downtown Community Yard Sale, a family-oriented event held Saturday, Nov. 9. Located on Lynn Street in front of the Municipal Center, the sale provided a platform for community members (not businesses nor established vendors) to sell as neighbors, according to organizer Stephanie Moore-Brewer Herndon Parks and Recreation. With a low-cost $10 booth fee, sellers turned out.
Kirk Denino of Reston reserved booth space. He used the opportunity to declutter and put cash back in his pocket.
"I sold a lot of my CDs, electronics, records and collectible baseball bats," he said. Buyers Diana Becerra, Rodger Charin and Laurie Kapfer, all of Herndon, did a little shopping. Kapfer said she learned of the yard sale from her friend Becerra and they both decided to invite Charin. "Roger came along to carry our treasures," she said. In the end, it was Charin who did most of the shopping.
"We are pleased with the turnout for a first-year event, said Moore-Brewer. We had over 20 community members come out to sell, and countless more to shop. It was very much a success, and we look forward to planning another Downtown Community Yard Sale in 2020."