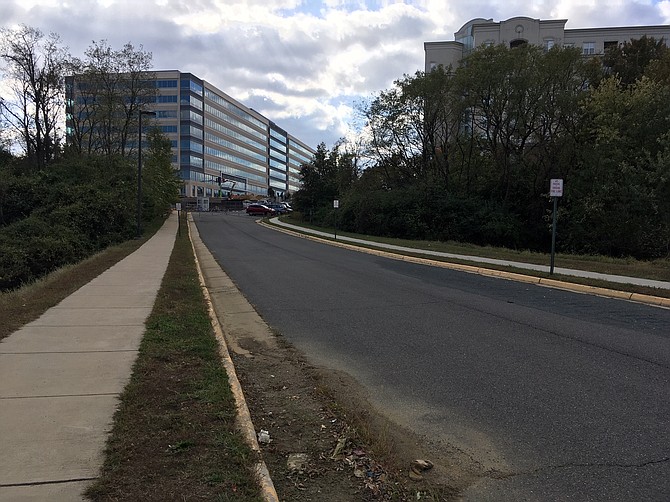 The Franconia-Springfield Metro Station and the burgeoning community on Springfield Center Drive and Metropolitan Center Drive are like that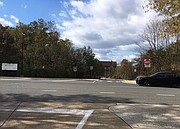 1970s Frankie Vallie song lyrics, "so close and yet so far away."
As a crow flies from the Metro Station to the apartments, offices and hotels on Metropolitan Center Drive to the station is not far, but there is only one road connecting the two and it is off limits to drivers. Throw in the large Transportation Security Administration building that is nearly done, and the Northern Virginia Community Medical College campus on nearby Springfield Center Drive in the same area, and there is a transportation glitch in this growing area.
Supervisor Jeff McKay (D-Lee) is working to open this road and knows the value of this needed link. "This important project will create another option for commuters to reach their desired destination in a more efficient manner," he said.
But for now, Metropolitan and Springfield Center Drives can only be accessed by Loisdale Road, which is parallel to I-95 on the other side of Springfield Town Center, not really walkable from the Metro Station.
On Metropolitan, there are several apartment complexes and a hotel, as well as a few offices in an industrial park setting. Springfield Center Drive runs parallel to Metropolitan, and it has an industrial park look, but it is also home to a Northern Virginia Community Medical College campus, which has a large parking deck too. For students going to class via Metro, it's a challenge to get from the station to the campus.
On the Northern Virginia Community College website, there are shuttles listed for some of the other campus locations in the area, but not the Medical College Campus. The Newington Fairfax Connector bus #334 is listed as a way to the campus, but only offers weekday service.
NVCC spokesperson Hoang Nguyen said the students use the Newington Circulator bus, but NVCC has plans to discuss further transportation improvements with "TSA on how to create more roads surrounding the campus," she said. According to Nguyen, the NVCC Director of College Government Relations, Dana Kauffman and other NVCC staff officials, will meet with TSA officials so they can get a jump on these transportation and access issues before the TSA headquarters opens. In previous years, Kauffman held the position of Lee District Supervisor, so he knows the area well.
VDOT Plans
The Virginia Department of Transportation has plans to extend Frontier Drive past the station, and over to Loisdale Road, but right now, there is no funding or construction date in sight.
According to the project information on the VDOT website, the $140 million project will relieve congestion, improve safety for drivers, bicyclists and pedestrians and enhance access to the Franconia-Springfield Metro station, Springfield Mall and Town Center area, and the General Services Administration (GSA) warehouse and other properties on Springfield Center Drive. There was a public information meeting in December 2017 on the project, but the rest of it is "to be determined as additional funding becomes available," it states on the website. The timing of the actual completion of these improvements is a concern of Kauffman and NVCC.