The yellow "store closing," signs draped over the front of Modell's Sporting Goods marks another big box retail that's closed on the roads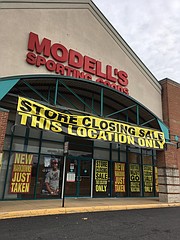 surrounding Springfield Town Center and a sign of the times on a nationwide scale.
With property values creeping up and the internet attracting shoppers to buy things online, the activity on Frontier Drive and Loisdale Road on the other side of the town center comes as no surprise.
Modell's started in the town center a few years ago when Herman's Sporting Goods closed but took over the spot on Frontier after Borders Books closed a few years ago. A few doors down, Performance Bikes closed, and Party City moved over to a spot on Loisdale Road after HH Gregg closed. There is a rumor floating around that the property owner wants to sell the whole plot of land to a developer to put condominiums in there.
It's not that simple, says Supervisor Jeff McKay (D-Lee). Although the proximity to the Franconia-Springfield Metro station and the parkway make it a good place for residential, the process takes time.
"Before the owners of the center can make any substantial changes to Springfield Commons Shopping Center, they would need to go through the County's Plan Amendment process," McKay said. "Back in 2013, the Springfield Commons site came through as a potential Plan Amendment, but it did not go anywhere," he added. "It is unfortunate that Modell's Sporting Goods is closing, but there are no current plans at this time to redevelop this site."
JBG Smith does have for rent signs in the empty store windows, and the folks in Modell's say they are getting ready for Black Friday, possibly a last hurrah for this branch, but other Modell's in Northern Virginia will still be open.
Big Box Stores Singing the Blues
In nearby Kingstowne, the Toys R Us closed and the space is now being refitted for another occupant, and the Dress Barn across Kingstowne Boulevard is closing. Dress Barn is calling it a "Wind Down," and released information about the whole chain of stores on Nov. 1.
"The Dress Barn, Inc. … today announced that it will begin the final stage of its planned wind down by commencing store closing sales at all of its brick and mortar retail stores," it said, and thanked customers but did not give a concrete reason for closing. They are working with Retail Ecommerce Ventures, and intend to have online shopping. "We believe the future of Dressbarn is bright and we are excited to grow and expand the online presence for the brand," said Tai Lopez, co-owner of Retail Ecommerce Ventures. "With our deep understanding and expertise in marketing and online brands, we are looking forward to taking this iconic brand to the next level," said Alex Mehr, co-owner of Retail Ecommerce Ventures.