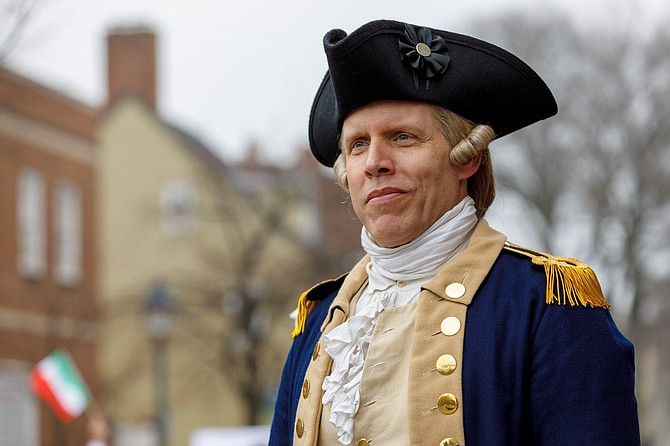 The George Washington Birthday Celebration Committee will host its first "Dinner With Washington," a special interpretive evening with Brian Hilton, the City of Alexandria's officially recognized George Washington.
"We are excited about this special presentation," said Committee chair Joe Shumard. "It will be similar to the Thomas Jefferson dinners hosted by Colonial Williamsburg, but on a smaller scale."
The dinner will be held Nov. 16 at Landini Brothers Restaurant and will give attendees the opportunity to interact with 'General Washington' in an intimate setting.
"Dinner guests will be able ask questions and discuss issues of the late 18th century, such as the fight for independence, slavery, equality and imperialism," Shumard said. "This will be an informal conversation where the audience is limited to 25 individuals and those in attendance will control the agenda. The forum will be open to a wide range of topics and interaction with Gen. Washington is encouraged."
A familiar face to area residents from the city's George Washington Birthday parade, Hilton has more than 25 years of experience in education, research and historical interpretation in his role as the Founding Father of the country.
"So many people only see Brian in the parade," Shumard added. "But he is quite an accomplished historical interpreter and this is an opportunity for people to interact with him on a more personal level."
The dinner will take place Nov. 16 at Landini Brothers Restaurant, 115 King St., at 7:30 p.m. Tickets are $125 and can be purchased online at https://dinnerwithwashington.eventbrite.com.
"We hope this will be the first of many events to help increase awareness of the legacy of George Washington in an informative and entertaining setting," Shumard said.