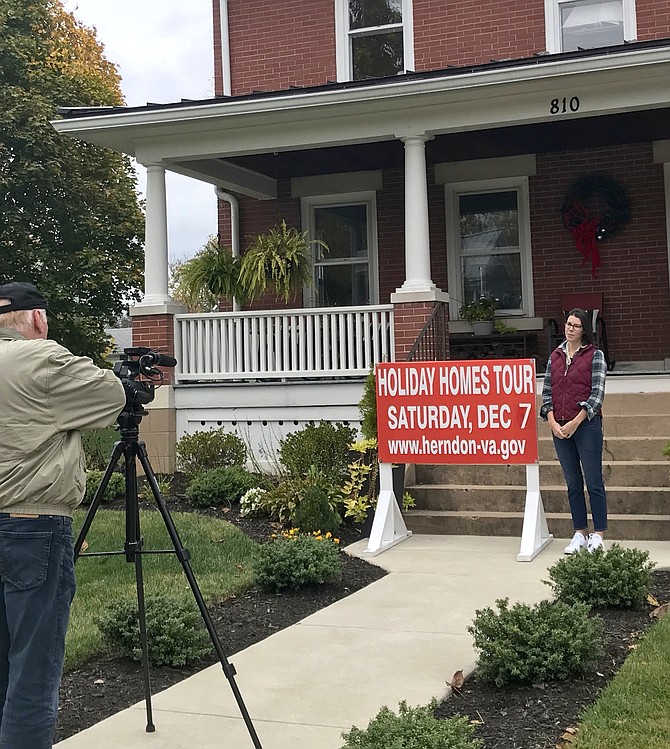 The community-focused Herndon Holiday Homes Tour is Saturday, Dec. 7, 10 a.m.–4 p.m. In addition to the five beautifully decorated private homes featured this year, the event committee added a bonus stop and expanded offerings at ArtSpace Herndon.
Rachel Eisenfeld is the owner of the Elden Street Tea shop located at 714 Pine Street. She agreed to open her historic shop as a "bonus home" and is providing a special treat on the day of the tour to anyone showing their Tour Ticket. The shop offers 65+ hand-curated teas, snacks and an array of arts and crafts for sale to the public.
Arts Herndon is providing space for local civic organizations to display information about their social and charitable missions at its gallery and performing arts venue located at 750 Center Street. Local artisans and craftspeople will also be there on tour day, selling their handcrafted items, perfect for gifting. While there, tour patrons can enjoy refreshments from the Green Lizard Cycling & Coffee Shop and Great Harvest Bakery. Organizers hope by involving community merchants, artists, artisans and nonprofit organizations; they distinguish and set the Herndon Holiday Homes Tour apart from others in the area.
In keeping with the theme of community, members from local civic organizations will be on hand as volunteer docents in the featured homes to share information. Herndon Florist, located on Lynn Street, committed to donating a holiday arrangement or wreath to every homeowner on the tour. And, other local entrepreneurs donated support to produce the enhanced brochures and help fund the after-reception party for homeowners and docents. All that community giving translates to increased proceeds from the event for organizers to contribute back to the docenting civic organizations in support of their charitable missions. Finally, in commemoration of the event for homeowners on tour nationally acclaimed local artist Pat Macintyre of Reston will donate a large framed ink sketch of each home as a special thank you gift to homeowners.
One of the organizers' primary challenges in this volunteer-fueled event is soliciting homes. While committee members love the homes decorated for the holidays, they also strive to find a mix of periods, architecture styles, sizes and unusual interiors to appeal to the area's diverse community. Each year, finding homeowners willing to open their homes is difficult. This year, as a special incentive, the committee is offering free tickets to homeowners who would like to consider featuring their homes on tour soon. Many owners of previously featured homes commented on how much more integrated they became in the community after meeting neighbors and local leaders through the event.

For tour information, visit http:/2019holidayhomestourherndon.eventbrite.com/. Tickets are available at Herndon Florist, 716 Lynn Street (cash or check only); Herndon Community Center, 814 Ferndale Avenue (cash, check, or credit) through Dec. 7 and Online until Dec. 6, 11:59 p.m. (pick up ticket day of tour at ArtSpace Herndon, 750 Center Street).