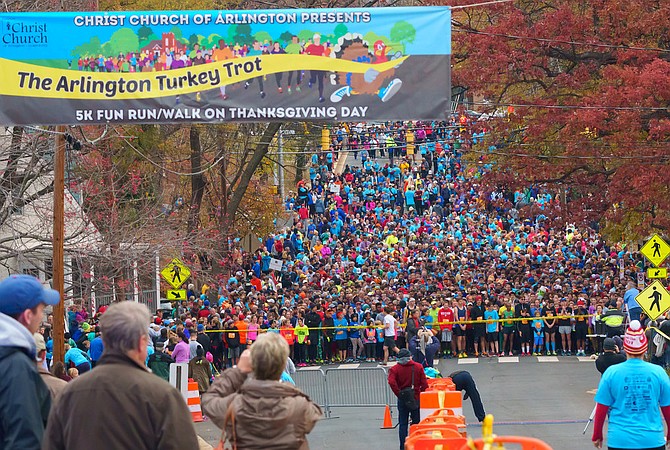 As part of a whirlwind trip, Mimi and Rob Mortimer flew from Ethiopia to Paris last week before heading back to Arlington. They wanted to spend Thanksgiving at home with family. Their holiday tradition however, involves more than turkey and dressing. At the crack of dawn, long before the feast, Mimi, 81, and Rob, 82, will lace up their running shoes and join thousands of other runners at the 14th annual Arlington Turkey Trot.
"We first began running in our early 30s," said Mimi. "We started doing 10k races years ago but now do only the Arlington Turkey Trot with our family, children and grandchildren."
The Mortimers are proving that age doesn't limit their ability to pound the pavement on Thanksgiving morning to raise money for charity. In fact, the number of older runners has increased over recent years, says Arlington Turkey Trot race director, Mark Riley, as have donations, with runners raising more than $120,000 for Arlington nonprofits that provide food and clothing for those in need.
"We see people who range in age from babies in strollers to 90 people who are in the 90s," he said. "This is a well-regarded festival and there are people who've been doing it for years."
Alexandra Danza, who is 72, ran in the Bethesda Turkey Chase last year, but will be in Florida this year for the Seniors First Turkey Trot. "I love doing turkey trots and this one will be fun because people will be dressed in costumes or hats with a Thanksgiving theme," she said. "There's even an award for the oldest runner."
Marsha Edgell is also hoping to do a turkey trot. Two years ago, she was out of shape and overweight. Her fitness program entails cycling, hiking and yoga.
"I did a hike in Scotland," she said. "I never could have done that two years ago."
"20-30 years ago, I'd run the occasional 5k charity race for fun," continued Edgell. "I got in shape because I want to be capable and able to [run in a turkey trot] if I feel like it."
Riley says that older runners are motivated by different factors. "For some it's become a family holiday tradition," he said. "Running each year preserves that tradition."
"We're motivated by the love of the sport," said Mimi. "Will continue as long as we can."