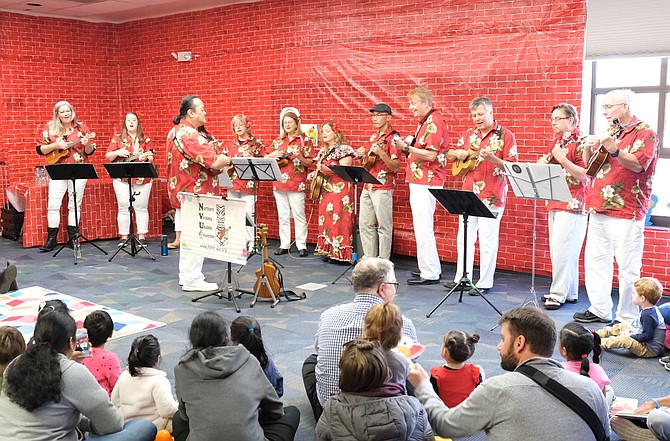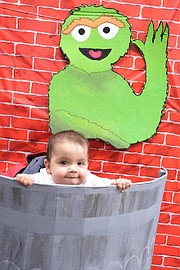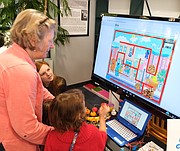 If you saw more yellow birds and green monsters than usual last weekend, it was probably because iconic children's television program "Sesame Street" celebrated its 50th anniversary, and Reston celebrated, too. A rumpus arose Saturday, Nov. 9, as children, parents and other fans gathered at the Reston Regional Library for a birthday party featuring plenty of Muppet mayhem.
Nearly 900 attendees turned out to enjoy the events, performances and photo ops honoring the show that has been teaching preschoolers their ABCs, 1-2-3s and other early literacy concepts for five decades. The library transformed into Sesame Street with decorations, carnival games and rubber-ducky prizes, which proud community partner Channel 26 WETA and library staff helped hand out.
"A passion project for library staff and volunteers, the 50th Anniversary of Sesame Street Celebration was many months in the making," Reston Regional Library Assistant Branch Manager Michelle Biwer said. "The television show was formative for many of us, and to celebrate that with more than 800 fans in our community was a very special experience."
PREPARATIONS included creating a variety of exciting games and activities, including a Cookie Monster Cookie Toss, Sesame Street-themed Sphero mazes, Pin the Nose on the Elmo, a life-size Elmo's World coloring zone, a photo op in a trash can with Oscar the Grouch, a green-screen photo booth with fun props and button making hosted by the Friends of the Reston Regional Library.
"The staff work hard each day to make our library a welcoming place for everyone in the community, and the Sesame Street celebration was proof of that," said Eileen Evon, PR and Community Outreach Chair for the Friends. "The Friends are proud and happy to be able to fund programs like this. We loved volunteering at the event and seeing so many smiling faces throughout the branch. We encourage anyone interested to sign up to volunteer with the Friends and get in on the fun."
Many more helping hands turned out to make this event possible and create a special day for so many local children. The library's Teen Advisory Board assisted with much of the decoration and games, and community groups like Infant and Toddler Connection provided early literacy information to attending families. In the true spirit of Sesame Street, it was a day not only of laughter but also of learning.
"It was cool that there was an area for science as well as just-for-fun activities," said Abby Malmberg, a page at the Reston Regional Library. "I helped run Cookie Monster's Makey Makey game, which was set up to teach kids about electricity. They held the end of a wire in one hand and touched a fruit with the other to become part of the circuit, helping get Cookie Monster out of a maze. The kids really seemed to enjoy it, and I had a great time with them!"
IN A DAY jam-packed with fun and games, parents enjoyed the opportunity to sit for a while and take in a performance. From Sing Books with Miss Emily and Story Time with Mrs. Wines and Busia Bear, to a Northern Virginia Ukulele Society singalong, the entertainment was a big hit with both the young and young-at-heart attendees.
"My daughter loved watching 'Sesame Street' for two hours straight when she was young," volunteer and attendee Marge Shapira said. "Seeing the library full of children who are still enjoying the show made me smile. The day was a lot of fun."