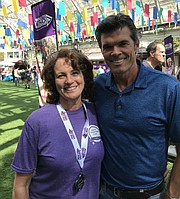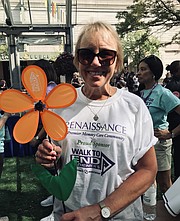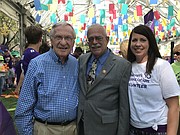 The burden of Alzheimer's and other dementia on individuals is relentless. Sherry Gryder took part in the 2019 Walk to End Alzheimer's in Reston, held Sunday, Sept. 29 at Reston Town Center. As the top participant, raising $20,535, she wrote on her Alzheimer's Association fundraising page: "You cannot yet fight or protect yourself from this deadly intruder. It first steals your short-term memory, then your logic and reasoning, bodily functions and ultimately your life. It is ALWAYS fatal."
According to the Alzheimer's Association, Alzheimer's kills more people than breast cancer and prostate cancer combined.
The burden of Alzheimer's and other dementia goes beyond the individual. Its impact on caregivers and the nation's health care system is staggering. During the Ceremony preceding the Walk, Bill Kelly, the emcee announced, "Currently in the United States more than 5 million people, including 140,000 right here in Virginia, are living with Alzheimer's and 462,000 individuals are serving as their unpaid caretakers." In 2019, Alzheimer's and other dementia will cost the nation $290 billion according to Alzheimer's Association.
THE 2019 EVENT marked the 30th Anniversary Celebration of the Northern Virginia Walk, one of 600 community walks held nationwide to raise awareness and funds for Alzheimer's care, support and research. In front of Kelly stood a sea of participants and volunteers of all ages and abilities, many wearing purple t-shirts emblazed with the words, "Fighting for the First Survivor." Some stood with strollers and held posters with photographs of loved ones no longer with them. Others pushed senior family members and friends in wheelchairs or held their hands tightly. Each came to raise awareness and funds for Alzheimer's.
Registered participants received a wristband entitling them to a Promise Garden flower that best represented their connection to the disease. Blue represented someone with Alzheimer's or dementia; purple, someone who lost a loved one to the disease; yellow represented one currently supporting or caring for a person with Alzheimer's; and orange represented everyone who supported the cause and vision of a world without Alzheimer's. Participants could fundraise and walk alone or as members of a team.
Jim Carter of Vienna understood firsthand the urgency of finding a cure. "I walk to honor my grandparents so that others in the years ahead won't need to walk on behalf of the millions of people who would otherwise be stricken by Alzheimer's. While I've dedicated this walk to my grandparents, I'm walking just as much for my children. I'd walk clear across the country if I thought that would protect them from Alzheimer's," said Carter, who serves on the Board of Directors for the Alzheimer's Association National Capital Area Chapter. Carter exceeded his goal of $2,000, raising $2,775.
The Alzheimer's Association did not charge walkers to register with them; however, they asked every walker to make a personal donation and commit to raising funds in the fight against Alzheimer's. Cindy Leach Schelhorn the Senior Director, Communications and Marketing at Alzheimer's Association, National Capital Area Chapter, said that more than 1,000 registered participants composed of 154 teams raised funds to benefit those affected by the disease. By Sunday evening of race day, the online site showed $272,425 raised, 80 percent of the $340,000 goal. More donations are still coming in and will be accepted.
Kathy Jackson of Reston recalled her mother Beverly was diagnosed with early-onset Alzheimer's in 2000 and died in 2012. "My first Memory Walk was in 2004, and I've walked each year since. …I now have an aunt who was diagnosed with Alzheimer's recently, so I will keep walking until we get that first survivor, and then until Alzheimer's is gone for good," she said. Jackson raised $1,185 toward her goal of $2,000 as of race day.

MANY INDIVIDUALS like Jackson and Carter continue to walk and raise money year after year for the Alzheimer's Association, but for Chris Schubert of Centreville and his family, this year marked the first time. "My family and I are walking in honor of my grandfather, Cirk 'Punga' Dorland, and my great uncle, Kenneth 'Uncle Kenny' Marschke, who were both diagnosed with Dementia/Alzheimer's. Witnessing the devastation this horrible disease has on not only the patient but also on everyone around them, really made me want to get involved in any way I could. My mother was the main caregiver for my grandfather, and I saw up close the effect it had on her and my grandmother …We went in expecting to raise maybe $1,000 and ended up with just over $4,000…We will definitely be back next year with even better fundraising," he said.
Schubert touched on caregiver stress, how overwhelming it can be to take care of a loved one with Alzheimer's or other dementia. Del. Ken Plum (D-36) and Congressman Gerry Connolly (D-11) spoke about caregivers, support and resources. Plum said, "My greatest wish is that the caregivers get the recognition they deserve."
Connolly urged to accelerate research through additional funding and the need to assist caretakers. "We have to shore up NIH and support caregivers. We've got to double our resources and efforts and provide support to their loved ones who succumb to the disease."
What Participants Say
Michele Alonso of Vienna, Alzheimer Ambassador to Congressman Connolly: "I'm a liaison between his office and the (Alzheimer's) Association. Congressman Connolly is a true champion for our cause and always votes yes for NIH funding and supporting legislation. …I lost my dad to younger-onset Alzheimer's. He was diagnosed in his late 50s and passed at 67. My mom was his primary caretaker."
Mary Stahl of Vienna: "We're walking for Team Manny, after my dad who is in a Memory Care facility in Texas. We've raised over $1,300 and more is to come. Family is key to me. How can we identify it early?"
Pete Stahl of Vienna: "Identifying early, you can take action."
Vaness Winter works in Reston: "I raised over $1,300 with a Team of Fantastic Four."
Aaron Winter: "We are doing this for Estelle Santander who lives in Arlington."
Pam Phillips of Renaissance in Annandale: "We have approximately 30 people on our team and raised $1,500. The more awareness we can bring to Alzheimer's and dementia, the better…My mother passed away from dementia in 2012. …Now I've opened my own dementia secure community through Legacy Living Senior Living. …My wish is for people to treat those with dementia with honor, dignity, and respect…It is an honor to serve our residents."