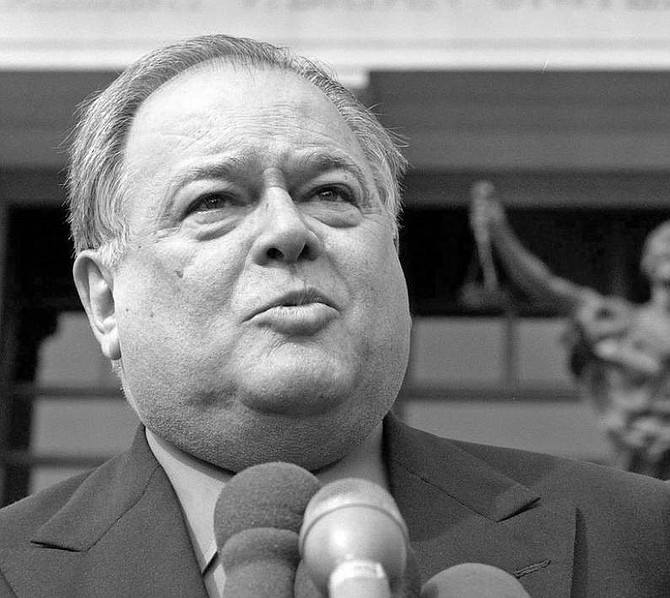 "Plato was awesome in court – as good as anybody I have ever seen." — Retired Alexandria Circuit Court Judge Alfred Swersky
John Mitchell. Fawn Hall. Aldrich Ames. Robert Hanssen. From Watergate to President Bill Clinton's affair with White House intern Monica Lewinsky, Plato Cacheris' name was attached to some of the most prominent legal cases in the country. On Sept. 26, the Alexandria resident and one of the nation's foremost defense lawyers died of pneumonia. He was 90.
"Plato was a superb trial lawyer," said retired Alexandria Circuit Court Judge Alfred Swersky, a longtime friend of Cacheris. "He was awesome in court – as good as anybody I have ever seen."
Born May 22, 1929, in Pittsburgh, Cacheris was the middle son of Greek immigrants Chris John Cacheris and Phaedra Economou Cacheris. The family moved to Washington when Cacheris was in the seventh grade. His father ran a chain of waffle and hamburger shops where Cacheris and his brothers often worked.
Cacheris graduated from the former Western High School, now the Duke Ellington School for the Performing Arts, in 1947, and from Georgetown University's School of Foreign Service in 1951. He served as an officer in the U.S. Marine Corps from 1951 to 1953 and used the G.I. Bill to attend Georgetown Law School, where he graduated in 1956.
In 1955, he married Ethel Dominick and together they raised two children – a daughter Lisa and son Byron.
Cacheris began his legal career at the U.S. Department of Justice as a prosecutor before moving to the U.S. Attorney's Office for the Eastern District of Virginia.
"Plato was one of the first people I met when I came to Alexandria," said Swersky. "He and his wife Ethel invited me to dinner back in 1969 or 1970 and we remained friends ever since."
Cacheris entered private practice as a criminal defense attorney and went on to represent some of the most high-profile clients of his era, including Attorney General John Mitchell during Watergate, Representative Michael Myers during Abscam, Fawn Hall during Iran-contra, Monica Lewinsky during the Clinton affair, and Aldrich Ames and Robert Hanssen in espionage cases. Most recently he represented National Security Agency contractor Edward Snowden.
The New York Times reported on his death saying: "Plato Cacheris, the Washington lawyer of choice for accused spies, wayward sheikhs and notorious figures in scandals, from the Watergate affair to the sexual peccadilloes of President Bill Clinton, died on Thursday at a rehabilitation center in Alexandria, Va. He was 90."
YET DESPITE his newsworthy clients, Cacheris was unpretentious and shunned the spotlight for himself.
"One of the great things about Plato was that he never let any of this go to his head," Swersky said. "He had no ego whatsoever. He was a fun person – one of the funniest human beings on the planet."
Swersky was one of a handful of lawyers who would meet regularly at the Cacheris residence to play tennis, a favorite pastime of Cacheris.
"We had a rotating group," Swersky recalled. "Plato, his brother Jim, Albert Bryan Jr., Wiley Wright, Jake Stein. We jokingly called it the John Mitchell Memorial Court since Plato said his fees from representing Mitchell paid for the court. We did a lot of trash talking and had a great time. I don't believe Plato was ever trained in tennis but he got pretty good."
In addition to tennis, Cacheris loved traveling, reading, watching NFL games and spending time with his family at a second home in Bethany Beach.
Cacheris is survived by his wife of 64 years, Ethel D. Cacheris; daughter, Lisa Cacheris Burnett (Tracy); son, Byron; brother and federal judge James Cacheris (Sally); granddaughter, Nora Burnett; sister-in-law, Helen Cacheris, and a host of nieces and nephews. His older brother, John Cacheris, predeceased him.
Reflecting on his career in an interview with The Washington Lawyer several years ago, Cacheris said he had no regrets.
"I'm glad I became a lawyer," Cacheris said. "I've been lucky. As I look back on my career, I can't think of anything that I would have done differently. I'll retire when the phone stops ringing. As long as clients keep calling, I'll keep going."