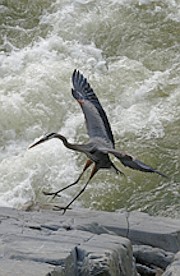 If it's October, it must be time for the annual Great Falls Studio Tour, so mark your calendar for the 16th annual tour which will be held Friday through Sunday, Oct. 18, 19 and 20 from 10-5 each day.

I am still in my studio at the Artists' Atelier located in the Great Falls Village Centre just two doors down from the Old Brogue.
This summer my wife and I moved to Ashby Ponds in Ashburn as part of our life plan: however, I still continue my quest to photograph the timeless natural beauty of the Great Falls area. I feel so fortunate to be able to photograph the land, the river and the wildlife of an area where I have lived for nearly 50 years. When I think back to an earlier time over 200 years ago, a painting that was done in 1797 of the "Great Falls of the Potomac" so moved a local citizen that he purchased the work and it still hangs today in his home in Mount Vernon.
I invite you to stop by the Artists' Atelier and say hello and see my collection. I have attached two images for your viewing enjoyment.
Walt Lawrence
Photographer